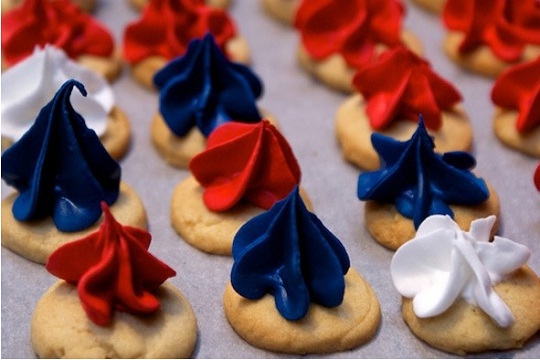 There's a Diamond Jubilee celebration at my son's school this Thursday for which I have to bake something vaguely in theme. Then we're off to the country on Saturday and Sunday, with a BBQ to go to, and dessert to bring. And finally our street is having a party on Monday.
So I've been spending the last week drooling over all sorts of wonderful Jubilee-themed baking and desert ideas.
Here's some of the best, yummiest, or easiest ideas that I've come across or have been suggested by our PlayPennies parents.
The weather forecast for the weekend made me laugh though. Apparently it is going to cool down but still be fairly pleasant. Kind of sounds like how most people I know feel about the actual Jubilee. Not exactly excited in any way, but a pleasant four days off and a chance to close the street and let our kids play outside for a change.
Now just make sure you stock up on plenty of red and blue colouring for the inevitable icings!
Red, white and blue iced gems
This is what I've chosen to do for my son's Jubilee celebration, You can see them pictured at the top of this post. Jubilee biscuits with red, white and blue dollops of icing.
Just about the easiest way to do this that I can think of. And, I have to admit, I've actually cheated on the biscuit bit and bought some. Now all I need to do is make up the icing. Ah it has suddenly occured to me that I only have one icing bag and will have to wash it out between icings. Maybe I should invest in some more?
This particular recipe comes to us via the ever useful ParentDish website. You can read the full recipe here.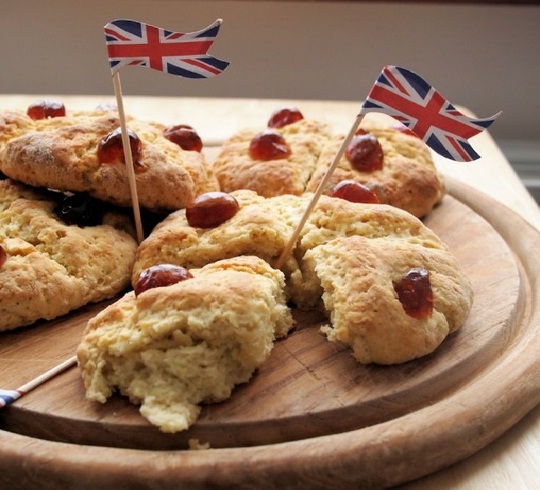 Jubilee Scones
"Scones." That was the single word answer from PlayPennies mum of twins Louise. "Scones. Sure you can't get more patriotic than good, old British scones, for a Jubilee tea?"
Well actually, when I thought about it, that made sense. I'm probably not ever going to make scones myself as I don't like them, but I can imagine they'd go down well in village halls and on street party tables across the country.
Sure enough, after a quick google search. I found this lush recipe for Victoria Scones for a Jubilee tea.
Diamond Jubilee Strawberry Crumble Crunch
OK so the adverts for this Waitrose dessert created by Heston Blumenthal and Royal Chef Mark Flanagan are starting to drive me nuts. But you know, it looks absolutely delicious! I can't help but be tempted to have a go. It will be served at the picnic being held this weekend at Buckingham Palace. Which is actually, kinda cool.
I'm not sure I'll have the courage to try and make one for the street party, but maybe something smaller for  the BBQ!
Jubilee Bunting Cake
I felt obliged to look on the BBC's website. It is, after all, the Jubilee. But I usually find their recipes use hard to get ingredients, or are overly complicated and fiddly. I'm glad I did because I found this fab idea.
Now if you want to make something that's going to make you look like a total Scrummy Mummy in your street, this is it. The Jubilee Bunting Cake. And dead easy too. Forget the bit about making the sponge from scratch. Just use cake mix. And you know, the Sainsbury's Basics cake mix (22p a packet) works just as well as any other sponge mix I've used.
I keep ribbons from cakes, presents and so forth for crafts, so have plenty of stock to make the 'bunting'. It says to use dowling rods, but I've given it a try on some trimmed down wooden BBQ skewers and it worked just fine. Leave the pointy bits on to make it easier to go in the cake, or cut them off if you're concerned about little kids grabbing them.
Good old cupcakes!
And you know what, you don't have to do anything extra at all. Buy some themed cupcake cups, and just sprinkle with red, white and blue toppings. Ceris, whose son is also in year 2, is doing just that and has opted to use Smarties.
"The most difficult bit was sorting out the red and blue smarties, and for the white I used white chocolate buttons. Otherwise I had the cupcakes in the freezer already - I didn't use any special cases. And for the flags I printed out a sheet of little Union flags and with my son, made little flag decorations using toothpicks with the sharp bits clipped off."
As they might say on Albert Square, sorted.