£2 Off £12 Spend With Printable Voucher ( In Store Use Only) @ Poundland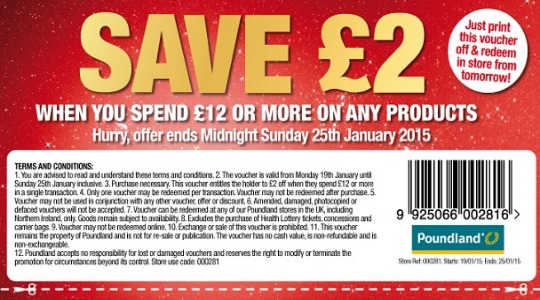 Every now and then you will get an offer from Poundland. When you do they tend to be pretty good. Using the link below, you will be able to print off the voucher for £2 off when you spend £12 in store. This voucher can be used from Monday 19th January to Midnight on Sunday 25th January 2015.
Poundland seem to get their hands on some great buys. This is the ideal time to visit your local store as they tend to snap up excess stock from bigger or well-known retailers. The voucher is also a good excuse to visit your nearest one. £2 off of a £12 spend is great considering that everything sells for £1.
You may only use one voucher per transaction, but it doesn't state in the terms and conditions that you cannot do separate transactions with more vouchers.
If you are planning on spending £24+ then be sure to give a try and print off a few vouchers. They might say no, but they might not. If they don't then you are £££'s in.
Thanks to nicster08 @ HUKD