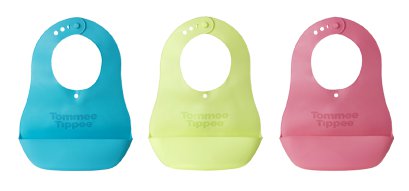 The Tommee Tippee Explora Roll 'n' Go bib is my new favourite bib for when we're out and about.
The Explora Roll 'n' Go bib for babies six months and up is made from a BPA free soft rubbery plastic, which is softer on baby skin and doesn't cut in to the flesh as the old hard bibs used to do. The pelican bib is a great catch all and stops a lot of food reaching the floor – meaning my toddler can pick it up again and keep eating without my having to worry about germs and cat hair.
The Explora Roll 'n' Go bib actually rolls up and the 'buttons' with which you fasten it around the baby's neck also serve as clips to fasten it so that it doesn't unroll in your bag. It is small enough that it can go in a handbag, nappy bag or picnic basket without compromising too much space in already jam packed baggage.
So what makes this bib any better than a simple .99p cloth version?
Well, just the fact that it's so easy to clean! That was it's selling point to me, anyway. A mucky bib in my handbag has never really appealed to me, but with the Explor Roll 'n' Go, a quick wipe down or rinse under a running tap, and you're good to go all over again. No plastic bags to keep it in and later throw away, no dirty bib to forget about, no running out of clean bibs when I'm out and about.
We took an Explora Roll 'n' Go bib with us on a camping trip over the summer and with no washing machine, it was really useful to be able to just wipe it off.
The Tommee Tippee Explora Roll 'n' Go bib comes in pink, green and blue and retails for £5.49 for two.