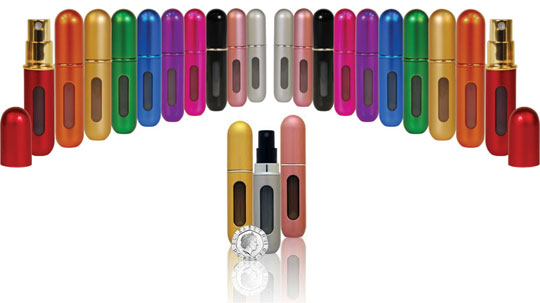 I adore perfume and feel rather naked when I'm not wearing some; for years I longed to be like my grandmother and have just one perfume that I would wear forever more - a signature perfume that was 'me'.
Two years ago I gave up on that quest because there are just too many perfumes that I love - Hugo Boss 'Woman', Lancome 'Hypnose Senses', Chanel 'Coco Mademoiselle', Vera Wang and all of the Princesses, Marc Jacobs and all of the Daisy fragrances, Christian Dior 'Dune', Dolce and Gabbana 'The One' and Davidoff 'Cool Water Woman' are the main suspects in my regular perfume line-up.
Deciding which one to wear can be tricky and it'll depend on where I'm going and what time of the day it is - Dune and The One are more evening fragrances, Daisy and Cool Water Woman are much fresher and more suited to daytime.
Now - I fly, OFTEN, so I buy a lot of my perfume in large sizes at Duty Free prices; this is great for my bank balance but not so great when it comes to carrying the bottles around in my handbag (I like to take the perfume I've chosen to wear out with me).
This was just something I put up with until I came across the rather wonderful Travalo; I discovered them in the British Airways in-flight magazine at 30,000 feet and bought a couple; since then I've bought another two and have won one (I'll tell you how you can do the same later).
So, the Travalo - it's a genius little thing that allows you to carry between 50 and 65 sprays of your favourite perfume with you (or aftershave - boys, you don't need to feel left out!), rather than lugging around a huge bottle.
You simply take the spray nozzle off your perfume bottle, line up the bottom of the Travalo with the plastic spindle and pump it up and down - the perfume from the bottle transfers into your Travalo and then you're good to go!
I have four Travalos in my handbag at the moment and am deciding which colour to add to my collection next - red, green or hot pink are the likely candidates.
There are various different Travalo versions available - the original holds 50 sprays, the Travalo Excel holds 65 sprays and comes in a hard case, there's also a new Travalo Elegance, only released on 28 June, which uses a rollerball application rather than a spray.
Travalo prices start at £7.99 and can be bought online or in places like The Fragrance Shop (or on British Airways flights!)
Remember I told you that I won a Travalo?
Well Travalo have a very popular Facebook page where they give away a Travalo every day, all you have to do is LIKE their page and answer the Daily Spray question - the question I answered to win my Travalo was:
If you could star in any movie which one would it be?
I really cannot recommend the Travalo enough - if you like wearing perfumes (or aftershaves, boys!) but hate carrying huge bottles around with you then you're going to LOVE them.
I can't fault them either - the price is spot on, the range is ever-expanding, the quality is fantastic and they are simply genius.
You don't have to take my word for it - Vogue, Grazia, Cosmopolitan and most of the other big magazine hitters say the same; I have to give the Travalo a 10 out of 10.