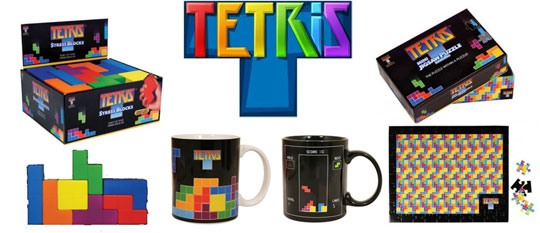 *Looks around in a furtive manner and gestures for you to come closer* If you're of a certain age then you'll already have fond (or perhaps not) memories of playing Tetris; calmly to start with, turning into blind panic when it all starts to go horribly wrong.
Tetris got in touch recently and gave us an 'advanced viewing'' of a few of their new range of Christmas gifts; Tetris fans, read on!
If you're a complete Tetris newbie, however, here's a brief history lesson for you.
Tetris was developed by a Russian guy called Alexey Pajitnov; it was released on 6 June 1984 and the name comes from the Greek numerical prefix for four, Tetra - as all the puzzle pieces have four sides - and his favourite sport, tennis!
The premise and game-play are simple: there are four different shaped four-sided blocks which move down the screen and stop when they touch the bottom, or other blocks (Tetronimoes, to give them their proper name) that have stopped falling.
Your job is to fit them all together to form a solid shape, with no gaps, by moving the Tetronimoes left or right and rotating them to fit; when you've achieved this, the solid portions will disappear and everything above that, with badly placed blocks, will drop down.
Sounds nice and simple, and it is, but the longer you play for the faster the Tetronimoes start to fall and that's where it can get a bit tense. It doesn't take long for a few misplaced blocks to become a tower that is far too close to the 'top' for comfort - you see, when there's no space for new Tetronimoes to fall into it's GAME OVER!
It's won various accolades, including the Best Video Game of All Time according to Imagine Games Network (IGN) in 2007; has sold 70 million copies worldwide and it was announced in January, last year, that it has sold over 100 million copies for mobile phones since 2005.
Tetris appeals to my inner competitive streak and need for beating high scores, whether my own or someone else's, so I was rather interested to see what Tamsin had to say about the Tetris Christmas bits and pieces she took home with her - it was only fair she play with them, seeing as she's our resident gaming geek.
Tetris Logo Mug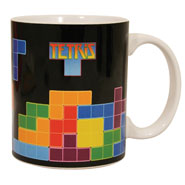 "I've had the privilege of interviewing the inventor of this ace game," reveals Tamsin, "A man who didn't see an inch of profit for the first years of its life thanks to the Russian Bear." See?  She truly is a gamer geek, I wasn't just making it up.
Tamsin thinks this Tetris Logo Mug is properly awesome.   She says it's really well made; thick, stocky and solid - not so good if you're of the fine bone china persuasion - and tells us that the interior is white with the exterior covered in Tetris images.
"That's all there is to the Tetris Logo Mug, really," Tam' admits, "It's an ace gift for someone who likes playing the game, who used to play the game, any geek at all, and would make a brilliant stocking filler."
The mug can be washed in the dishwasher and you can zap coffee in the microwave  in it when it's gone cold.
 Tamsin scores the Tetris Logo Mug a 7 out of 10 and listed the following as pluses and minues:
Pluses
Sturdy
well made
Tetris is cool
Pacakging can be recycled
Looks ace
Minus
The tetris blocks images don't look very realistic
Tetris Mini Jigsaw Puzzle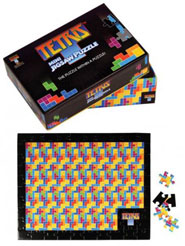 I couldn't wait to hear about this Tetris mini jigsaw puzzle - I like puzzles - but having heard what Tamsin says about it, I'm not sure if I now REALLY want it or want to run away from it!
"OH. MY. GOODNESS!" she exlaims (well, words that effect!) "This Tetris mini jigsaw puzzle will munch your brain; seriously! You have a puzzle within a puzzle and acres of dizzzying Tetris blocks to match together - I got a bit of a headache!"
Tamsin, whilst admitting it was hard to review, tells us that it's well made, occupied her daughter for hours and her husband for slightly less time.  "It looks insane," she continues, "and made me seek relief and sanctuary in bottom of a paracetamol box."  
She says she would definitely buy the Tetris mini jigsaw puzzle for a geek, "It's that kind of weird, mad present that makes people laugh and think you really spent some time looking for something they like."
Tamsin scores the Tetris mini jigsaw puzzle 7 out of 10.
Pluses
Minuses
Cost, due it's tiny size [I'll tell you about prices at the very end]
It gave me a headache just looking at it
Tetris Stress Blocks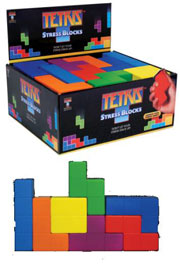 I could do with some of these at the moment - everyone who buys me presents for Christmas, take note - they sound fabulous, Tamsin loves them and I want some!
"Best. Gift. EVER!" was Tamsin's opening gambit when we asked her about the Tetris Stress Blocks.  "It was REALLY hard to return these when I was done; really, really hard." I have a rather amusing mental image of the Post Office counter clerk having to literally prise the return package out of Tamsin's hands.
"The blocks are quite big, very soft, and come in all the Tetris shapes and colours," well, that's enough to make me want some of my own, right there!
"They are, seriously awesome," Tamsin continues, "We all spent hours and hours playing with these for several happy Tetris-filled days.  They are a firm, HUGE favourite. Stressed? Squish your Tetris. Bored? Make Tetris towers. Sad? Make sad little Tetris sentences."
I think we can safely assume that Tamsin and her family were rather fond of the Tetris Stress Blocks; I've never known her to under or overstate things, so be assured that these are fabulous.
Tamsin scores the Tetris Stress Blocks 10 out of 10 - a first here at PlayPennies, in recent memory at least.
Pluses
Great price
Great product
Great EVERYTHING; I love it!
Minuses
You didn't seriously look for minuses after such effusive praise for the Tetris Stress Blocks did you...?
Tetris Heat Changing Mug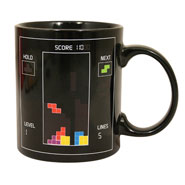 So far, all the Tetris Christmas gifts had gone down well with Tamsin and her family; that came to an abrupt end when the Tetris Heat Changing Mug was put under her ruthless scrutiny.
"With this sort of thing, you want to see it 'do it's thing' straight away," she says, "So we (me and the daughter) took it off to the kitchen, ran the hot tap, filled it with hot water a-n-d NOTHING happened."
Tamsin checked the temperature of the water in the mug and reports that it was lukewarm, "Odd, to say the least, as we'd put HOT water in it.  We did it again and the same thing happened! It was almost as if the mug was sucking the heat out the water and there was no change on the design or any heat changing fun showing up at all!"
Not one to be easily deterred, Tamsin waited for a hot coffee opportunity the following morning (I'd have gone straight for the coffee after the hot water tap failure myself, but then anytime is coffee time in my house).
"I poured the hot fresh coffee in, popped in a splash of milk, looked at the mug. Some of the heat changing 'stuff' put in an appearance and looked fab'; some of it just didn't change at all," she sighs, "And, AND! The worst part is when I took a sip of my coffee...it was lukewarm and almost cold!" concludes Tamsin.
Yuk, on the cold coffee.  Well, it really does sound as if the Tetris Heat Changing Mug should be renamed to something like the 'Amazing Tetris Heat Stealing Mug' - catchy, I think!
Tamsin says it's a nice idea but just doesn't do well in the delivery of any significant, and I quote, "heat changy fun!"
The Tetris Heat Changing Mug only gets a score of 5 out of 10.
And finally...
Now, remember at the very beginning I told you that this was a bit of a sneak preview?  These Tetris Christmas things aren't even in the country yet, but they are being packed up as I type and will be winging their way into shops for around, we're led to believe,  the end of October/mid-November time.
Forbiddenplanet.co.uk have everything available for pre-order for you - the Tetris Logo Mug is 50 pence more expensive there (£4.99) than play.com who are selling it for £4.49.
Play are also pre-selling the Tetris Heat Change Mug for just £4.99, the expected rrp is £6.99 and that's what forbiddenplanet.co.uk are selling it for; the Tetris Mini Jigsaw Puzzle is selling at both play and forbidden planet for £4.99.
Happy Tetrising!