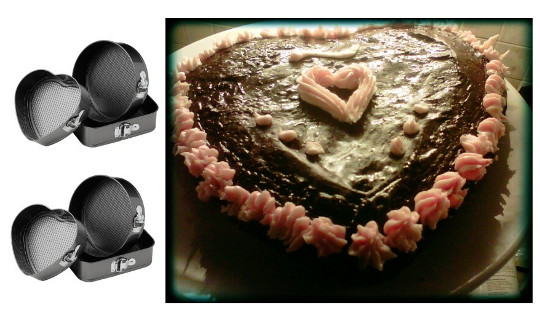 I love baking and since having children it's something I do more and more often. I have made every birthday cake from my first child's six month-aversary cake to her recent third birthday cake, and while they're very much 'mummy-industry' as a friend calls it, I love planning them, putting the effort in and most importantly, getting the 'Oh WOW Mummy!' when my daughter sees her birthday cake. The thing is, I've never really spent money on 'good' baking stuff, and it wasn't until I bought this set, that I realised it.
Now, if you're a professional baker or cake maker, you're probably laughing at me thinking this is a great set, but for a home -cook, it's brilliant.
In this Premier Housewares Spring Form Cake Set* you get a heart, a circle and a square pan. They're 7.5cm high and the heart is 22.5cm by 21.5cm, the circle is 25 cm wide and deep and the square is 26.5cm deep and wide. Basically, that means that they're pretty big, and not the pans you'd use for a cake for the family for after dinner. I've had to double up every recipe I've used them for so far, otherwise you end up with chocolate biscuit instead of chocolate cake.
What I've absolutely loved about these is the non-stick bit. There's no cutting around the edges with a butter knife. They have a latch which you tighten to put the base in place, pour the batter in and it doesn't leak, and bake. After baking, loosen the latch, and off it pops. Turn it over on the cooling rack and lift off the base - simple and easy. In the first cake I sprayed it with butter spray first, but I haven't since and haven't needed it.
The Premier Housewares Spring Form Cake Set washes clean really easily and they store away more or less inside each other, so they're not too space intensive. If you're baking this Christmas, you can't go wrong with these!