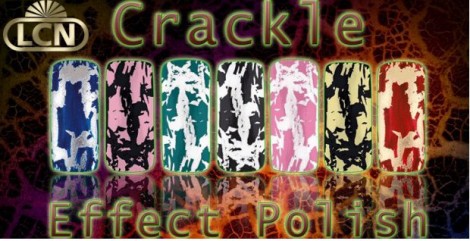 I like' simple and straightforward' when it comes to my nails.
I like them to be long enough to look elegant, but not so long that they end up looking like claws and make it impossible to type.  I like the tips gently rounded, not square, and please don't come anywhere near me with bright colours or, even worse, tacky American or French manicure colours, just a simple clear polish is all I need.
All of the above said, I was looking forward to hearing how PlayPennies mum Lara, and her daughter, got on with the LCN Crackle Finish nail polishes we'd been sent to review.
"I received five LCN Crackle products," Lara tells us, "two base colours in silver and gold, and three top colours: pink, blue and green."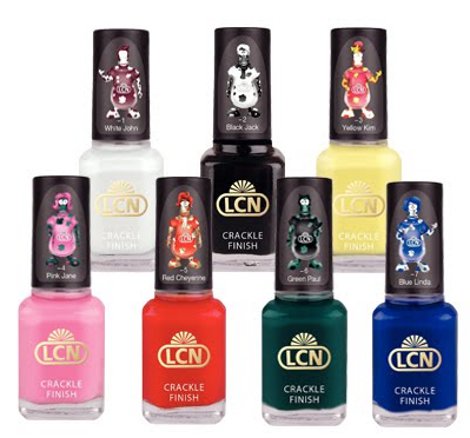 It transpires that Lara loathes anything yellow gold coloured (including jewellery) and for a few minutes there was a potential problem!

"Immediately upon seeing these I didn't even want them to grace my toes," says Lara, "GOLD! I don't like gold; never have. Silver is nice. So is platinum. Will happily accept white gold but don't even SHOW me yellow gold!"
Luckily, the review fairy was shining down on everyone involved as Lara's daughter had a friend coming to stay over that evening for a sleepover, and what do little girls love? Anything sparkly to do with make up!
So Lara was off the hook and spent the afternoon painting the nails of two excited little girls, who became even more excited when they were told what was the final effect was going to be.
"They just couldn't WAIT to see the crackle effect," tells Lara.
"I painted the one set of toes with the silver base and the other set of toes with the gold base. I already had a peach base on my toes so I figured I would test the colour they don't choose over the top of that."

Lara's daughter's friend had blue crackle on top of silver and pink went over the top of the gold that her daughter had chosen.
"Gold...I'm so embarrassed; maybe she'll grow out of it!" remarks Lara.
Lara says she was more than a little impressed by how NOT sparkly it looked.
She even went as far as saying that the gold and pink actually looked really good together.
"You had this showing of sparkle that was substantially reduced by the crackle and delivering a really neat little look," she says.
I'm sure you've got the gist that the overall effect trying to be achieved is a crackled one.
"The LCN Crackle nail polish basically cracks, splits and tears as it dries, creating this cracked paint look you'd see on hot concrete or walls," Lara explains. "You'd think it would look hideous and I am sure to some people it does."
I've already run screaming for the hills at the very thought of it but Lara insists that it really DOES look very nice.
"I'm a FAN!" continues Lara. "I like the fact that it is quite different without being madly awful or ostentatious."
When it comes to reviewing products, Lara is nothing if not thorough.  She spent the following two weeks carefully 'monitoring' the LCN Crackle nail polish to see how it stood up to the test of time.
"I have to say that there are some problems," she reveals.
"First of all, my daughters nails were pretty much patchy and awful after two days. I am not sure if she is hard on her hands which, I think, may be a part of it, but it isn't very robust."
Lara went on to tell us that her nail polish only lasted for three days before they, and I quote, "...looked more like a vacant car park in a hot city than a hot set of nails!"
By day four Lara couldn't stand it any longer and felt compelled to remove both our sets as their nails just looked tatty.
"And this revealed the next issue," says Lara, "that stuff is like GLUE!  Odd that it comes off so easily with daily wear and tear and yet the stuff that stays stuck is utterly stubborn."

Lara used acetone free nail polish remover and finished the bottle trying to get the LCN Crackle nail polish off.
"Maybe it only comes off easily with acetone filled horror stuff," she muses, "Not sure; either way, it was a nightmare."
Not to be deterred from producing a detailed and thoroughly tested product review, Lara decided to test the Crackle polish WITHOUT the colour base.
"DON'T DO THAT!" Lara warns, "It doesn't crackle properly, if at all, and the colour is so bland and flat that you look as if your child has painted your nails with the paint from her paintbox."
Of course with her nails looking rubbish again, Lara had to go through the whole removal agony once more, "It took me another 30 minutes to get the Crackle off my toes so I could paint on a base coat," she sighs.
Lara chose the silver base with blue crackle over the tip this time and she reports that a week later it's still looking good.
"I like these very much," she says, "they would really complement an outfit or an evening out. I would also add that some toes didn't crackle as well as others."
Lara does say this could be down to user error though and she also had an epiphany.
"I am 40 and still can't paint my nails well," she concludes, "how sad is THAT?"
We're saying NOTHING, Lara!
And finally...

I think we can safely say that Lara, and her daughter, gave the LCN Crackle nail polish a good run for its money and despite needing industrial grade nail polish remover to take it off, it was given a general thumbs up.
Lara's marks out of 10 are as follows:
"I give the LCN Crackle nail polish the following marks out of 10:
8/10 for a cool idea and original styling
7/10 for the base coat colours sent to me
5/10 for ease of use - changing colours and the time taken to get it off
6/10 for robustness and longevity
8/10 overall for fun factor
Will I use it again?  I think so, but not for general everyday purposes."
The LCN Crackle nail polish base colours and crackle top coats retail for £7.55 each.