Historic Royal Palaces is a charity that looks after Kensington Palace, Kew Palace, Hampton Court Palace, Banquet House and the Tower of London.
I didn't know that although the palaces are owned by the Queen, the upkeep and running of them isn't funded by the Crown or government and relies soley on the fundraising efforts of Historic Royal Palaces.
Money raised comes from various sources - visitor entry fees, donations from generous benefactors, sponsorship and of course the ubiquitous gift shop packed with Historic Royal Palaces gifts for young and old alike.
Choosing something from the gift shop of a place visited was something I always looked forward to when I was little; I always gravitated towards the pens, pencils, rubbers and notepads because they usually offered the most value for the few pounds I'd been given to spend, so I was really looking forward to being sent a couple of Christmas gifts for kids from Historic Royal Palaces.
Personal Seal Set with Wax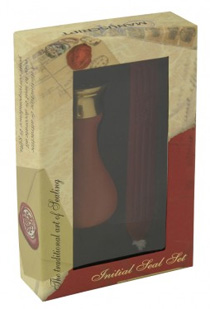 One stick of red sealing wax and an initial seal are presented in a pleasant enough box - elegant and understated with a clear window allowing you to see the seal and wax inside - and retails for £12.99, if you buy it through Historic Royal Palaces.
I've owned a wax seal stamp set for years; it's something that really appeals to me and special invitations, letters (yes, I still send real letters!) and Christmas cards are often sealed with my initial embossed in red wax.
Upon taking the lid off the initial wax seal box, I discovered the history of the seal had been printed on both long sides...
'The use of the seal dates dates back to the Old Testament.  The unbroken seal of a nobleman conferred authenticity.  State papers from the ninth century carried the first great seal of England, made for Edward the Confesser.  From then on having your own seal was considered of high value'
Personal wax seals are very simple and satisfying to use. There's just something very grand about stamping your initial onto a little puddle of wax and having it add a touch of flair and security to whatever you're sealing.  You can steam open an envelope and reseal it again, you can't do that with an envelope sealed with a wax seal.
This is all well and good but I'm an adult, I like this sort of thing - if I could have my own Coat of Arms I would! - but I'm really struggling to see how this can be a Christmas gift for a child.
My youngest son is five-and-a-half and he had zero interest in the wax seal or the history of it. Even fast-forwarding five years, making him 10, I still can't see him jumping up and down for joy having been given a personal wax seal for Christmas.
But lets, for a moment, suppose you have a child who likes this sort of arty thing - there's the issue of combining kids with fire!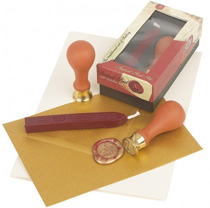 There's no way round it, you can't melt wax without a flame; the sealing wax has a wick running through it, that you light with either a match or lighter.  With the flame burning you need to angle the sealing wax downward so the wax melts and drips onto your envelope.
When you're ready, you blow out the flame and press your initial seal into the pool of hot wax.  Kids, flames and hot wax you have to be kidding me!
So I have serious reservations about this Personal Seal Set with Wax being a suitable Christmas gift for a child; I also have an issue with the price. Historic Royal Palaces are selling them for £12.99 but, whilst I understand they're a charity,you can buy the exact same wax seal sets for half the price from both Play and Amazon.
There's nothing different about them to make them special to whichever historic palace you visited, and if you weren't visiting one of them I can't see why you'd buy from their website when you can get the exact same item cheaper elsewhere.
Play 'n' Wear - Yeoman Warder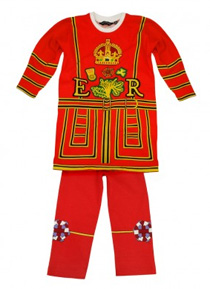 Hurrah! Something that's obviously a gift for a child; marvellous.
This Yeoman Warder outfit is billed as being 'designed for leisure and nightwear, as well as for fancy dress parties and other children's events' and comes in sizes: age 2 - 4, 5 - 6 and 7 - 8 and retails for £19.99.
It's made from 100% cotton and I have to say I'm impressed by its quality; the material is a good thickness and the inside feels lovely and soft.
If you've visited the Tower of London, have seen the Beefeaters (Yeoman Warder) and your child has got swept up in all the history, pomp and ceremony of the place, then I can imagine they'd enjoy dressing up as  Yeoman Warder, or sleeping in their uniform.  But if you haven't, they might seem somewhat random.
My youngest son is five-and-a-half and already rather adept at giving his honest opinion of things when asked.  I told him I'd been sent something to review and that I wanted to know what he thought about it.
When he saw the Beefeater pyjamas he just looked bemused and less than impressed.  I showed him a picture of a Yeoman Warder - he's never been to the Tower of London - and gave him a brief bit of history, he still wasn't very impressed.
"The top looks like a dress," he said. "I'm not putting them on, I don't have to put them on do I?! Well I'm not going to, I don't want to look like that! I won't wear them even if you give me all the chocolate in the world!"
My son loves chocolate, so this statement isn't one to be taken lightly.
If you're specifically in need of a Beefeater suit then this will be absolutely perfect; if you've visited the Tower of London and your youngster was completely smitten by the Yeoman Warders then, again, perfect. If you haven't been anywhere near the Tower...perhaps not so great, even if you have all the chocolate in the world to offer as a bribe.
And finally...
I've found this review so hard to write.
There is absolutely nothing wrong with the two items that Historic Royal Palaces sent me to review and yet I feel as if I've bashed them a little bit.
The wax seal kit is a lovely item, I just don't think it's suitable for kids and is over-priced. The Yeoman Warder Play n Wear outfit is equally lovely; fabulous quality which makes the price utterly justifiable, but unless you've enjoyed a trip to The Tower or need to dress up your child as a Beefeater, they might not be as well received as you hoped they'd be.
Personal Seal Set with Wax - Pros and Cons
Pros: Brings a little bit of grandeur and something special to everyday postal correspondence, cards and invitations
Cons: Not suitable for kids and can be bought for half the price elsewhere
Yeoman Warder Play n Wear - Pros and Cons
Pros: Suitable for kids, very good quality, fabulous for dressing up as a Yeoman
Cons: A bit random if you haven't visited the Tower of London or seen a Beefeater, expensive just for dressing up once or twice as a Yeoman Warder.