I love make-up; always have done and no-one in the PlayPennies office bothers to fight me for make-up review products any more; hurrah!
Three new Barbara Daly Satin Swirl eye shadow compacts arrived on my desk a little while ago and, just to make things a little more interesting, I enlisted the additional services of my mum (59) and my daughter (16) to give you opinions across a three generation range - I'm 39, if you didn't already know.
I remember when the Barbara Daly range was launched by Tesco some 13 years ago now.  I've bought various items from the Barbara Daly make-up collection during that time - I'm a massive fan of her Face Lift moisturiser - but only recently discovered quite what a big deal she is in the make-up world!
Barbara Daly can be considered to be the First Lady of make-up artists.  She was the first to be demanded by the big Hollywood names and royalty - she was responsible for Princess Diana's wedding day make-up, did Margaret Thatcher's make-up for years and has worked with (my) photographer heroes Lord Snowdon and David Bailey along with film director Stanley Kubrick!
Armed with new respect for the creator of these new Satin Swirl Eyes eyeshadows, myself, my mum and daughter set about putting them to the test.
The three of us had a bit of a pow-wow to discuss what it is we want from an eye shadow and the general consensus was we're a demanding bunch of gals!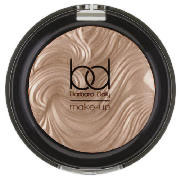 We want an eye shadow that lasts all day, doesn't rub off easily but blends well when you put it on and comes off in a flash when you want it gone.
My mum and myself also want an eye shadow that doesn't crease and my mum has a deep loathing for anything glittery, so anything sparkly doesn't stand a chance with her.
The official verbage that accompanied the Barbara Daly Satin Swirls claims that, and I quote...
Prismatic crystal reflections and pure pigments combine for the truest colour imaginable and deliver a highly polished finish which is super long lasting.  The colour glides and blends flawlessly, with an instant colour release on application.  

It's extreme velvety texture and creaminess makes it comfortable to wear, whilst plant derived proteins improve skin flexibility and protect against dryness.
Well that all sounds great, but what are they like to use in real speak? Here's how we got on...
Barbara Daly 'Satin Swirl Eyes' Eye Shadows
We received Satin Swirl Eyes in three colours:
Oyster is a pale peachy/beige colour, Sequins is a darker coppery-brown colour and Whirl is a rather vivid looking emerald green!
If you had to purchase these Satin Swirls by sight alone, you would most definitely steer clear of Sequins and Whirl because they look more 'in your face' than something that will enhance it.
We were all rather pleased, however, to discover that the darker colours blend very nicely into a less intense version when they're applied to your eyelids, UNLESS you use them wet!
It's never occurred to me to wet my eye shadow before I use it, and even with my love of make-up I've not come across many that state you can - you can with these Barbara Daly Satin Swirls though and WOW does a wet application make the colour strong!
If you've been searching for strong colours and been getting frustrated that they're just not strong enough when you apply them then, really, give these Satin Swirls  a go.
Working through our rather demanding list or eye shadow requirements I can reveal the following:
The Barbara Daly Satin Swirl eye shadows did indeed last all day AND there was not a crease in sight either - it did feel a bit strange wearing full slap from very early in the morning to last thing at night and we were all relieved when even just a cheapo non-branded cleansing wipe quickly removed every trace.
All the colours blend nicely when you apply them dry but don't with a wet application.  If you're going to try them wet, make sure you know exactly where you want your colour to go otherwise you might end up having to take everything off and starting again.
My mum was really pleased to discover that the 'Prismatic crystal reflections' wasn't code for 'glittery' and her favourite was by far, Oyster.  It was mine too, and is very effective to use a highlighter - she might have to fight me for it.
I was also rather taken by Whirl, the vivid green one.  It has a slight hint of gold in it too and blends away to create a very nice smokey colour that's not as harsh as grey or black, and slightly more interesting too.
None of us fell in love with Sequins, it was just too coppery on our skin tones and (to our minds) almost made us look like we'd been crying for hours and had 'red' puffy eyes.
And finally...
The Barbara Daly Satin Swirl eye shadows come in 10 different colours and retail for £8 each, but they are big - each round compact has a 5cms diameter.
I didn't reveal the price to my mum or daughter before we used them but when I did, Elise thought they were reasonably priced because, "...there's a LOT of eye shadow in each one; they'll last you for ages!"
My mum, on the other hand, despite being really pleased with the no-glitter, non-creasing, easy to blend, stays on all day, quick to take off performance thinks they're too expensive and, "...wouldn't pay £8 for them; mind you, I wouldn't pay £8 for any make-up something or other."
I'm with Elise on the price and value; even if you used your favourite Barbara Daly Satin Swirl every day, I can't see it lasting any less than six weeks and even then I'm being 'pessimistic'.
The packaging is simple and elegant and the actual eye shadow itself has a raised swirled pattern on the top.  I'm not fussed about the swirly pattern to be honest, but if you like that sort of feature then you're going to be thrilled.
Pros, Cons and Overall Score
Pros - goes on easily, blends nicely, doesn't crease, can be used wet for a more intense colour effect, simple packaging, easy to remove
Cons - perhaps a little expensive for some (like my mum!), would definitely be an expensive mistake if you bought the wrong colour - make sure you test on your skin before you buy!
Overall score - 8 out of 10
Barbara Daly products are exclusive to Tesco and they currently have a three for two on Barbara Daly offer running too.