Munchkin Snack Catcher Review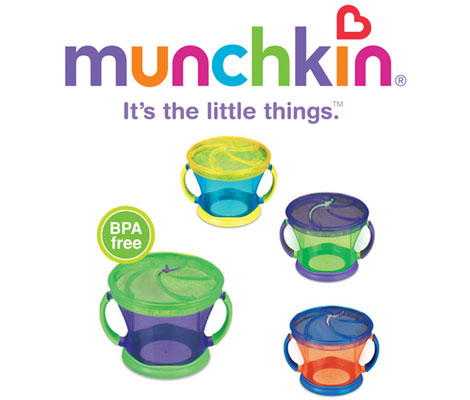 When Tamsin first mentioned the Munchkin Snack Catcher to me, a cross between the Munchkins from the Wizard of Oz and the Child Catcher from Chitty Chitty Bang Bang stalking lunchtime snacks leapt into my mind!
A little bit of an insight, for you, into the weirdness that can be my mind but a quick google revealed that the Munchkin Snack Catcher is actually a rather nifty little pot for putting snacks in.
"Big deal," I hear you say, "I have loads of little snack pots in the cupboard!"
I'm sure, but I bet you've also lost some of those snacks to the kitchen floor, the car carpet, and any other surface that will happily accept food when those pots get dropped or knocked over.

*Drum roll* Enter....the Munchkin Snack Catcher!
We gave a snack catcher to one of our father son duos to road test, quite literally, for us.
"What is it?" asked four-year-old Edward, when he was presented with what looks like a toddler training cup with a strange looking lid on it.
"It's a snack catcher!" replied Simon, Edward's dad.
"A snack catcher? What's a snack catcher?" Edward questioned.
"It's a pot to put snacks in, you can reach in and get them out but if the pot gets dropped or knocked over, the snacks will stay inside," explained Simon.
"Can I have some snacks now and test it?" came the reply along with a cheeky grin; you've got to love canny four-year-olds!
The snack of choice for this first trial run was apricots. Edward took his Munchkin Snack Catcher, ran off and proceeded to 'accidently' fall over numerous times, sending it rolling across the floor - all apricots remained in the pot, round one to the snack catcher!
I know Edward pretty well, I should do - he's my youngest, and he's not one to be beaten.  He soon discovered that the only way to 'beat' the snack catcher was to turn it upside down and BANG it on the table.  Round two to Edward (sort of).
The next test was conducted on the road.
"I cut up some apple and put it in the pot and we went off on car trip," Simon told me, "Edward was happy dipping in and out of it during the journey and then wanted to take it with him into Tesco! So he wandered around the shop eating his apple without spilling any." Round three to the Munchkin Snack Catcher!
Sometimes with these things though, the novelty value can wear off pretty quickly, so what happened the morning after?
"The next morning Edward was asking for his breakfast fruit in the pot!" reported Simon; a definite win if something is still the 'item of the moment' the following day.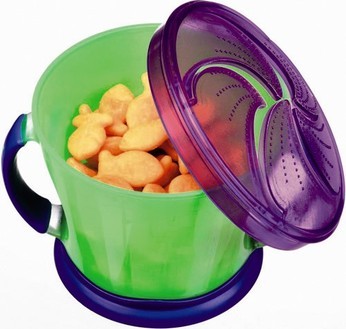 The lid is made from soft plastic with five 'slits' in it which push apart easily when little fingers reach inside to pull their snacks out. It also makes it very difficult, if not impossible, for wasps and flies to get into and trample all over, this earns it a lot of brownie points as far as I'm concerned.
Simon did have one piece of constructive criticism though,  regarding the design (Edward's snack catcher was dark blue with an orange lid), "the content isn't easily visible so you have to remember when using it with fruit etc, to empty it during the day or it would be easy to forget and then kids dip into it later, not realising that it had gone a bit skanky."
All of Munchkin's products are BPA free - BPA stands for bisphenol A which is a compound used to make a lot of plastic items, and concerns have been raised about its safety and the effects, due to exposure, on fetuses, infants, and young children.
And finally...
Snack Catchers are available in Asda or Wilkinsons stores and retail for £3.49, and the overall consensus of opinion from Simon and Edward is that the Munchkin Snack Catcher is easy and fun to use and also easy to clean.
It gets a very definite thumbs up from them both and a thumbs down from all the dogs owned by various family members, who will be going slightly hungrier from now on.