I've just been sitting here trying to think if I've ever dyed anything (other than my hair) in my 37 years of existence; I don't think I have but I know exactly who Dylon are!
Their name is just synonomous with dying fabric and we were more than happy to send some of their products out to PlayPennies mum, Tanya, to try out on our behalf.
She received three different Dylon products - Dylon Fabric Dye for hand use, Dylon Fabric Paint and Dylon 3D.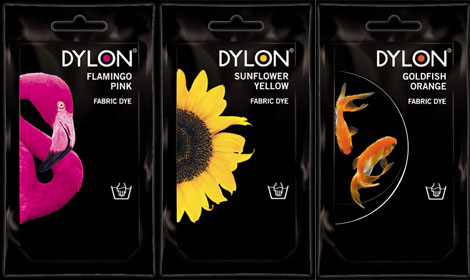 Tanya willingly admitted she had 'history' with dying fabric and it wasn't good; I know it sounds mean, but that's why we chose her for this Dylon review.
"I was quite terrified of using these," she confessed, "The last time I attempted to dye anything was in my Tie Dye phase and the shirt looked as if it had been attacked by a rabid paint pot!" Apparently the bathroom didn't fair any better either.
But inspired by the beautiful range of colours, and their names, Tanya toughened up and prepared herself for a new dying experience.
"I particularly LOVED the names of these Dylon fabric dyes," she told us, "they range from Goldfish Orange to Sunflower Yellow and Flamingo Pink; I tested out the Flamingo Pink because my daughter adores pink."
To make sure you get the best results from fabric dyes it's important to follow the instructions carefully.
"First," reported Tanya, "I had to weigh the fabric, wash it and then leave it damp.  Next came dissolving the dye using rubber gloves - otherwise you'll end up with dyed hands! -  and a bowl, pot or anything you don't mind being permanently stained."
Tanya recommends doing this outside.
All that remained was to soak the fabric in it's Flamingo Pink 'bath'. The length of time you soak the fabric for will determine the final colour; Tanya, ever thorough, ran three time tests to see exactly what a difference soaking time really made.
"I took some old and tatty pillow cases that needed some love and labelled them A, B and C.  A was in for the recommended 45 minute soak, B for only 20 and C was in for the longest at 60 minutes," Tanya explained.
"The colours were remarkably different but," and she feels this is worth noting, "the paler pink of pillowcase B did NOT wash out after the cases were rinsed, it stayed pale pink."
Tanya's overall conclusion, "The Dylon Fabric Dye for hand use was easy to use, the colour range is fabulous and the instructions are clear and simple. There was a downside though," she continued, "you must stir the water for the first 15 minutes of dying, and then stir and stir and stir and stir.  WOW! My arm was t i r e d by the end!"
Now prices; you can't buy directly from the Dylon website but there are various retailers, both online and on the highstreet, who stock their products.
The average price for the Dylon Fabric Dye for hand use sachets seems to be £2.99 but the final price you pay will depend on the differing delivery charges - I'll list the main online stockists I've found at the end of the review for you and then you can choose who to buy from.

Tanya got rather excited about the Dylon Fabric Paint; she received two 25ml bottles in turquoise and gold.
"Oooh these are going to be FUN!" she exclaimed. "Take a handy paint brush, grab some fabric and the world is your artistic oyster."
Tanya is actually so in love with these that she decided to do a quick test with them and save the rest for, and I'm quoting her verbatim here, "...that Big Idea that I know is coming to me.  I did a quick test to see how well the paint went onto the fabric and I was very impressed."
She is of the opinion that, should you be arty enough and want to update or customise a piece of clothing, then these Dylon fabric paints would be ideal.
The Dylon fabric paints (25ml) cost, on average, £2.85 excluding any postage.

Tanya is quite crafty, not in the sneaky sense of the word but in the arty-crafty sense; she's currently making some dresses for her daughter from old pillowcases!
"I know it sounds mad but the pillowcase is the dress body with a knitted and crocheted bodice, and have already got a pillowcase, or four, for these dresses thanks to the Flamingo Pink fabric dye," she explained.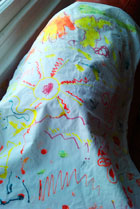 Tanya thought it would be a lovely idea to make a pillow case dress from one that her daughter had drawn on, "The pillowcase is entirely covered in her artwork and it is pure awesomeness;  I almost want to frame it!"
T-shirt, or pillowcase, painting with this sort of thing is great to do with young children during the school holidays; get some cheap plain white t-shirts and let them loose with the paints, they love it!
Tanya told us the Dylon 3D fabric paints were reasonably easy to use. However, two of the glitter tubes didn't work at all.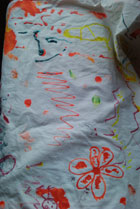 "I couldn't get the lid off to paint directly from the tube and the nozzle was completely blocked by the glitter," she told us.
"One of the tubes worked fine, but the glitter ones were basically impossible; only whitish paint came out -no glitter."
Tanya admitted that was a bit annoying and the tricky thing is there's no way of knowing if this will happen to you, or whether it was a one-off (two-off actually).
"That said," Tanya continued, "the other colours are fabulous and the paint dries in 3D which is awesome. It has texture and shape, it looks fantastic, and I am planning on making a message board in exactly the same way; I LOVE THESE!"
We think she likes them!
Prices for Dylon 3D fabric paints seem to be around the £1.70 mark.
And finally...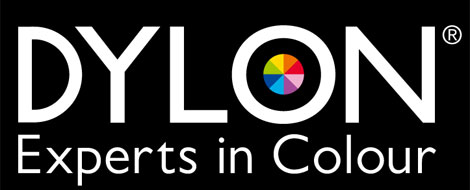 Tanya's faith in fabric dying has been much restored thanks to Dylon; her family and friends are bracing themselves for home-made tie-dyed gifts for the rest of the year!
She felt all the Dylon products were easy to use and, despite her 'fight' with the 3D glitter paints, would (and will be) buying more for future dying projects, especially as the prices are very reasonable.
You can buy all of the featured Dylon products at the following stockists, just check the delivery costs to make sure you don't end up paying more than you have to.
www.amazon.co.uk (from different marketplace sellers with varying delivery charges)
In addition, you can enter the first part of your postcode into THIS PAGE on the Dylon website and they'll list nearby stockists for you.