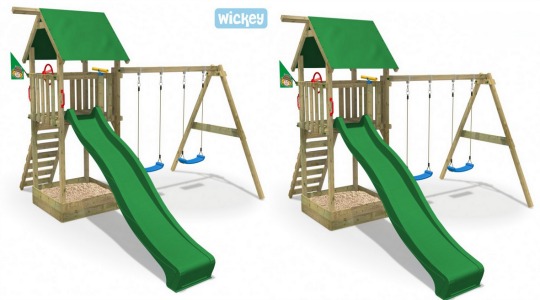 This is the back garden toy to please the kids all year round. Check it out! It honestly looks like something you would find down your local park. It is not dirt cheap but it's certainly the cheapest by miles around for something of this calibre. It was £629.95 which to be fair is how much something like this costs but it's now down to just £374.95. Plus you get FREE delivery, which you kind of expect when you are paying this kind of money.
The Wickey Smart Empire Climbing Tower isn't really that expensive when you factor in all of the different play elements. You have a climbing tower, two swings, a telescope, a steering wheel, a sandpit, a tarpaulin roof and a Wickey flag.
This is the best I have seen for this price range and you can pick the colour of the roof which is pretty darn cool. It's made from wood and all of the pieces come pre-drilled. It's not something that will get whizzed in an hour but will more than likely take you a full day with help. The kids will love it even though you will swear no less than thirty times building the thing.