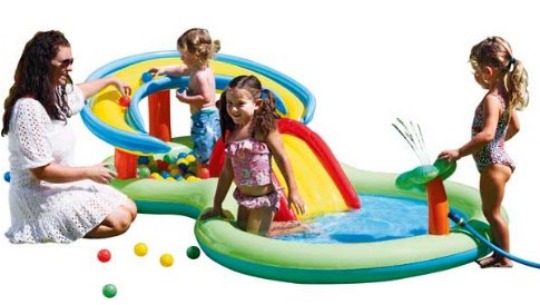 The weather has certainly been shining today and the kids are itching for the paddling pool to come out. Ours is tired now and we could really do with a new one. Argos have this Chad Valley Activity Pool Play Centre reduced from £29.99 to just £22.49. This isn't just a paddling pool but it's a play centre too.
The Chad Valley Activity Pool Play Centre has a splash pool, sprinkler, slide and ball pit. This looks like something you will struggles to get the kids out of. If only they did one big enough for us adults.
It takes only five minutes to inflate, which is good as my children can be very impatient when they know they are getting to splash in water.
This pool/play centre has a 4.3 star rating and most of the reviews say it's a great garden toy for little ones. It's not the cheapest paddling pool out there but it's certainly got plenty for the kids to do.
You can Reserve and Collect the Chad Valley Activity Pool Play Centre for FREE from an Argos store near you or pay £3.95 to have it delivered to your front door.