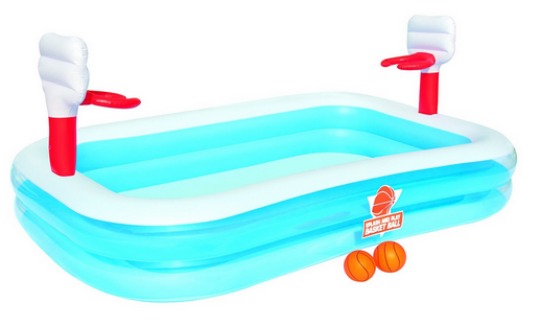 This looks like brilliant fun and for under £20! The very large Bestway Play Above Ground Pool is only £17.48 from Amazon with FREE delivery. This is the cheapest I can find this. If I buy a new paddling pool this year then this definitely makes the shortlist. It's three meters long, think how many kids you could cram into that. I betcha that you end up with half the street in it. To get it at this great price select it from Amazon on the right hand side of the page!
The Bestway Basketball Play Above Ground Pool is an inflatable paddling pool, aimed at the kids, but I can't see anywhere that says an adult can't go in when once the kids are in bed.
When inflated it's 2 metres 54cm long, 1 metre 68cm wide and 1 metre 2cm deep.  There are two basketball nets attached for extra fun with two inflatable balls for hilarity. You get a patch repair kit for any little nips or punctures.
The structure of this paddling pool features an extra wide two equal ring sidewall, with a durable I-beam construction. It's suitable for children aged three years old and above.
There is a two to three week wait for this item so bear that in mind when ordering.