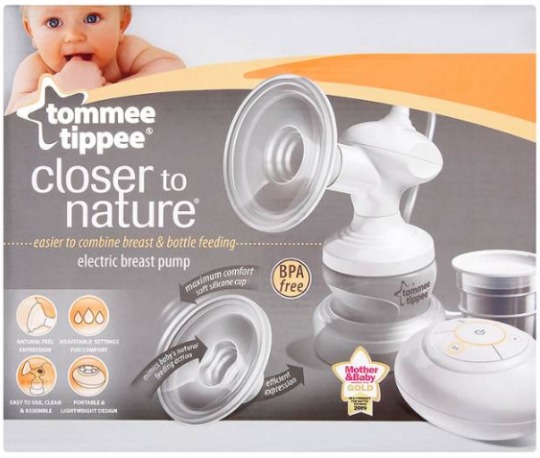 Electric breast pumps aren't cheap. In fact I've always thought that an electric breast pump is a bit of a luxury item when it comes to the kind of gear you need for a new baby. Granted, if you're unable to feed your baby and thus need to express milk (such as with premature babies) or are returning to work and want to express your milk so others can feed your baby, then an electric breast pump probably becomes a must-have item. But for mums who only want to express the occasional feed to allow for a night out without baby or for someone else to do a feed from time to time, then a manual breast pump will surely suffice.
Well, that was my view until we were asked to review the Tommee Tippee Closer to Nature Electric Breast Pump. At £99.99 it's certainly not cheap, and I wouldn't ordinarily have thought of it as an item that I particularly needed, but once you've used this electric breast pump it's pretty hard to fathom how you ever lived without it.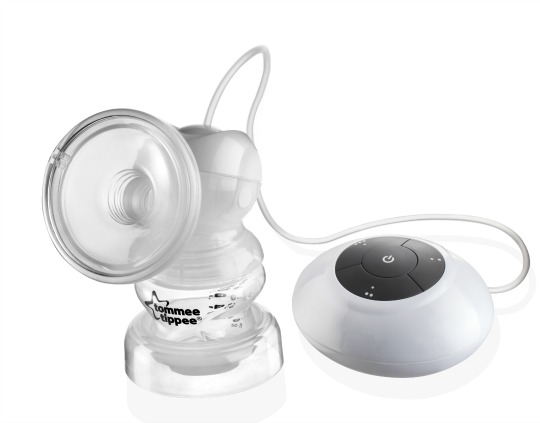 I'd go so far as to say there's just no comparison between a manual pump and an electric one. I've used a manual pump many times and have no complaints about it - it does the job, but after using this I'd never revert to using a manual breast pump.
So what's so special about it? Well, according to the marketing blurb, the silicone cup makes this electric breast pump super-comfortable to use. And I can't argue with that. I've always tended to believe that all breast pumps are created equal but that's not the case - this is exceptionally unobtrusive and easy to use. It makes the sometimes messy and stressful business of expressing milk surprisingly quick, easy and painless. Let's just say that there's no need to grit your teeth or brace yourself before you use it.
The Tommee Tippee Closer To Nature Electric Breast Pump has 4 settings to choose from: light, low, medium and high. The guidelines recommend that you start with the light mode to encourage milk let-down, and then move onto the setting that is most comfortable for you. I love this feature - it basically means you can express at a rate that matches your milk flow, which takes away a lot of the stress of expressing. No more frantically pumping away with nary a drop of milk forthcoming, and equally no crazy milk flood that you can barely contain. You just experiment with the settings until you find the one that's right for you, and if that changes as your milk production changes, it's no big deal. Just move on to the next setting. Genius idea.
This breast pump comes with a microwave steriliser box which is very handy, along with a Closer To Nature Easi-Vent Baby Bottle (150ml), one milk storage pot and six disposable breast pads.
I found the storage pot ridiculously small so you will need to invest in others, but throwing in the breast pads is a great idea. I stuffed mine in a drawer until one day a minor milk emergency erupted (quite literally) and they were quite the sanity-saver. You can never really have too many breast pads when you're a nursing mum.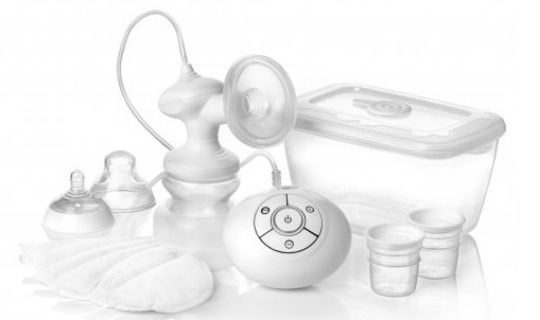 Using the steriliser for the first time is quite a fiddly operation and I didn't find the instructions all that helpful. For example I had to really hunt for the information as to whether the lid of the steriliser should be open or closed during use in the microwave, and since expressing and sterilising are the sort of things that most mums do under pressure while baby is sleeping, it would be much more helpful to have the guidelines for use really prominently displayed in an easy-to-read format. But once you've used the steriliser once it's also surprisingly straightforward to get to grips with, and the items stay sterile inside although I'm not sure how long for.
My only other comment would be that the battery encasing on the motor seems a little bit delicate - it looks as though it would be fairly easy to snap it if you weren't careful but that's no big deal as it wouldn't affect the operation of the pump. It's just worth handling it with care. My pump came without batteries too which I didn't realise until I was about to use it, so bear that in mind, although you can also use it connected to the mains. But the battery option is very handy and there are few things quite as awkward as going through the fiddly sterilising process and, er, readying yourself for a pumping session only to discover that you need to nip out for some batteries!
The Tommee Tippee Closer to Nature Electric Breast Pump is available from these stockists including Amazon*.
Pros: Makes expressing milk quick, easy and painless, and comes with a bottle and handy microwave steriliser. Is compatible with other Tommee Tippee bottles, too.
Cons: Not cheap but if you're likely to need a pump on a daily basis then this will soon work out to be a worthwhile investment.
Overall verdict: 9/10. Including batteries would be really brilliant, and the storage pot could be bigger.