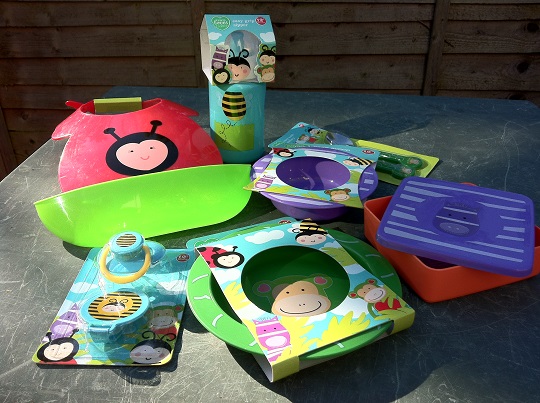 I find it so hard to review items like baby feeding products. Not in a difficult to talk about kind of way. More that I know from experience that how well items are to use just varies depending on the baby or toddler.
The bowl or sippy cup that works wonders with one child is useless for another. So when I do a review like this one where we've only got the one young tester it is quite tough to make anything other than very subjective comments.
The Tesco Loves Toddler* range of self-feeding products are simple, inexpensive, and have some unique design features. So really, we had to give them a try! Plus they've got one of the best designs we've seen, truly baby designs (instead of baby girl, baby boy designs). The Bumblebee design had me smiling so much just looking at it, I couldn't wait to see if the products themselves were any good. Read on to find out how they fared!
How can you resist this cheery wee face, and the happy red colour of the lady-bird design Catch It All Bib* (£2.49)? Quite easily it seems if you are a toddler who hates wearing bibs. She seemed to object mostly to the hardness of this bib - it is really quite stiff. However, it has an adjustable neck and wasn't easy for her to pull off. At least until she could be distracted by food.
Another nice feature, as you can see in the photo above, is that the bottom is detachable, and there are two settings. Handy for smaller babies and larger toddlers.
The Tesco Loves Toddler new range is designed to help toddlers move to their next stage of development and learn to feed themselves. A messy stage as any parent knows all too well. The range runs from easy-to-hold cutler to catch-it-all bibs and easy grip sippers. All the new products are brightly coloured with friendly animal faces to make feeding more fun for little ones. The designs are lady-bird (red), zebra (purple), bee (yellow), and monkey (green).
The first item to catch our eye was the Easy Grip Sipper. This looks a lot like a sports bottle, but according to Tesco, there is a clever valve inside that makes it non-spill. Now I had something similar for my son, but the problem was it wasn't just non-spill, it seemed to also be non-drink too. He never managed to get to grips and we quickly went back to more traditional sippy cups.
The design of the bee was an immediate hit with our little girl, whose favourite colour it turns out is yellow. She was easily about to wrap her chubby little 21 month old fists around the handle, and had no trouble swigging out of it. Despite walking about like a mini King Kong waving the bottle in every direction we didn't notice any spills.
Now the unique selling point of the Easy Scoop Plate and the Easy Scoop Bowl (£2.34) is that they are deep, with high sides making it easier for little ones to scoop up food. The thing is though, all our young testers bowls and plates have the same high sides so it isn't that unique.
However, these are really light plates, so handy if you want to carry some around with you. Also, the lips around the edges are really wide, so there's lots of it for a little one to grip when using the bowl. This worked really well. The lightness possibly not so much - but then most of her bowls and plates end up on the floor if you're not looking anyway so that's not necessarily a design flaw!
Finally we had the Snack Box (£2.30), and the Soother & Holder (£2.34). There's not a lot to say about either. The selling point here is the price. If you don't already have a snack box to take out with you and toddler then this is really handy to have. Ours was the purple Zebra design, and this appealed to mum too.
The soother (ie dummy) has a orthodontic silicone teat, which is designed to make it soft and comfortable, and the hold can clip onto clothing. We weren't really able to test these out as our young tester didn't like the dummy itself, but the holder definitely came in handy.
Pros: fun designs, good quality build, affordable price
Cons: bowls and plates a little too light, bib too stiff for our tester
Overall verdict: good value feeding products for toddlers 9/10