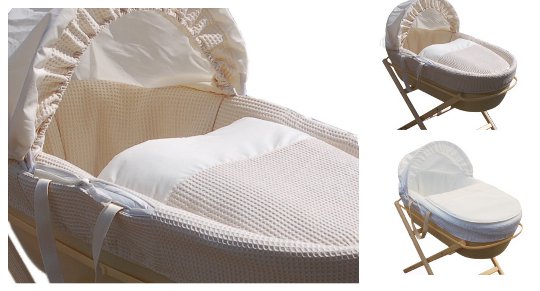 We all know, and most of us love, the traditional Moses Basket. There's something so cute and newborn about it. It just feels baby-ish, I guess because it is.
We've had two Moses Baskets for our two daughter, and each has come from Freecycle, which is great, because they're pricey for what they are and for how long they last – especially with babies born in the second have of the 50's centimeters in length.
The Shnuggle Moses Basket is a Moses Basket with a difference. For a start, it's made of a hypoallergenic polymer, rather than wicker. This means that it's less of a dust trap, and is easy to clean and sterilise. If it's been in storage for a while, it can be wiped off and be as fresh as a new one. If baby wets or spits up, wash and clean, easy as pie – no seeping into the wicker. That's really great if you have a child with allergies, especially against dust mites.
The Shnuggle doesn't creak like a traditional Moses basket, so putting baby down or trying to rock them in the basket isn't noisy and won't disturb them.
The Shnuggle comes with blankets, a stay up hood and a lovely mattress. It is a complete set although you need to buy the stand separate.
The Shnuggle is also larger than the traditional Moses basket, so your baby will be able to use it for a little longer than most newborns use them, and it is a lot sturdier than the traditional – espeically if it's been handed down a few times. This is particularly useful if you have an older sibling who likes peeking in to see her baby sister – or whatever the genders in your family are. I feel a lot more secure with the Shnuggle, which we use downstairs for daytime sleep, as I know that my daughter isn't going to tip the baby  out accidentally.
A Moses Basket is one of those expensive baby items that doesn't last long, so having one that not only lasts longer, but can be safely stored and used for the next baby is a bonus – especially when it is hypoallergenic and hygenic.