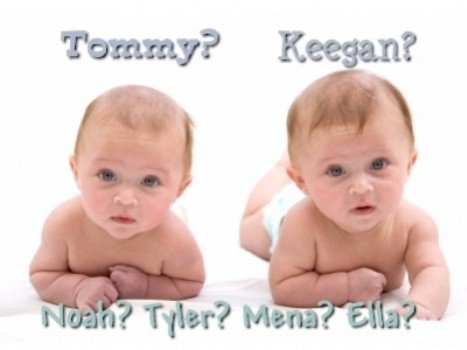 I think that choosing a name for your unborn baby is enormous fun. I also think that it can make both you and your partner utterly furious with one another. It's very easy to find that you spend hours going:
"Daisy?"
"No, had a smelly aunt by that name."
"How about Science Centre? You know, where we conceived her?"
"I want a divorce..."
The choosing of the name for your child can result in the desire to bash one another over the head. One woman's dream name may well be her partner's idea of hell, and, as the ideas get crossed off the list, so the frustration grows.
Eventually you may find yourselves staring at a list of three names, one of which is the brand of IKEA table you bought last week, and seriously considering them to be perfect.

So, before you go down the dodgy path of issuing names like Prune and Hedge, why not open up the Babies' Names book by Oxford University Press? Here you'll find over 400 pages of names that have been taken from all over the world and is simply packed with inspiration.
I made the terrible mistake of getting a book by a US author and it had names like Spanner and Mechano for (and I am not kidding) parents who want their children to be more mechanically minded. So it was with a certain amount of relief that I opened up this book.
The book has over 2,500 names that are currently in use in the English-speaking world and it also includes information on their meanings and origins. It spans traditional names, from Anne and Albert to Victoria and William, to modern names, from Azalea and Bryn to Brooklyn and Zanna and everything in between.
There is also an article with on how to find the right name or create your own, as well as additional material within entries on well-known bearers of the name, real and fictional. In addition to the A-Z list of names there is an appendix including thematic indexes for many names categories such as Biblical names, names from television and films.
The latter include sections like Fresh Ideas, Religious Names, Family Names, Mythology and Legends and Most Popular.

It makes for an interesting read, as well as a very rich source of ideas.
Each name comes with a description, its origin (where relevant) and some information as to when it was last popular. This is particularly fab for those parents, like me, who prefer to choose names that are not in vogue. I want to be a trendsetter, me.
Once I'd finished leafing through the book I sent it on to two other pregnant mums that were desperate for ideas. They were literally on the verge of murdering their partners (well, not really) because every one of their favourite names had been rejected.
"I was extremely relieved to get this book," said Vicki, "Both myself and my husband prefer older names with a religious slant, like Matthew or Isaiah, but we had run out of ideas. This book had a ton of names and we've found the ones we want for our son."
Vicki was genuinely pleased with how the book had broken the names down so clearly and how they had been able to instantly see how popular the names they liked were, and what their history was. She then passed it on to our next mum-to-be who really was the complete opposite.

"I wanted to name my daughter something different," said Tanya, "Names on my original list included Apple and Sunshine and Park. My husband was really against these names so with the use of the book we were able to combine two of our favourite names to create one that we both liked."
So there you have it. Babies' Names is a small book that will fit easily into your handbag (so you can read through it obsessively until you find the perfect name) and lists 2500 names, spelling variants and ideas.
A tidy buy for the practical parent on the prowl for the perfect name and only costs £5.99.