MAM Milk Powder Box, Anti-Colic Bottles, Night Dummy Review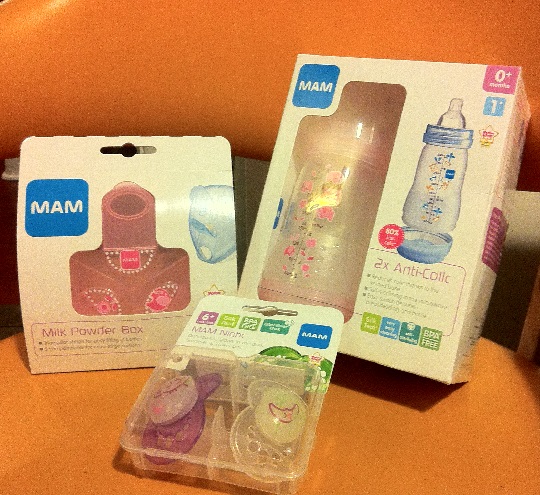 MAM are a brand of baby equipment that I'm not really familiar with. I didn't use any of their items when my son was a baby, although like a lot of parents, I got one set of bottles and pretty much stuck with them. However, I can't remember seeing the name around.
So I was more than a little curious to find out what they were like. And with a new addition in our family, now seemed like the perfect time!
MAM sent us a Milk Powder Box, Night Dummies, and what seemed like the holy grail of parenting, self sterilising, anti-colic bottles. Yes, you read that right - self sterilising. The only way they could have appealed more would have been if the package also said self-cleaning.
Find out how we got on!
MAM Anti-Colic 260ml bottle
These bottles were a huge hit with the parents of our tester. The MAM Anti-Colic 260ml bottle is priced at £4.88 for a 1 bottle pack, and £9.38 for a two bottle pack.
First, we all liked the design. Although I'm not really a pink sort of person, as our tester's parents had bought all their bottles before she was born, they were all gender neutral. So having something pretty and pink was a novelty!
As well as being anti-colic, with a slow, slow teat to stop them sucking in air, the bottles are also 'self-sterilising'. This means that you use the base of the bottle, which is vented so that during feeding it reduces colic, as a steam steriliser for use in a microwave.
This part of the bottle is easy to figure out, and really easy to use. We all loved it.
Our tester however did not like these bottles. She wasn't happy feeding from it, and didn't like grasping the bottle. I think that if you're going to try these bottles, you need to right from the start. Most babies I know do get used to one type of bottle, and if you try to replace with anything radically different then they get upset.
So while we couldn't properly test the bottle, I would still definitely recommend this for future parents. Particularly as it adapts into its own steriliser, which is VERY handy when you go on visits.
 MAM Milk Powder Box
I had been looking for one of these to buy as a gift. I remember when my son was a baby, the three compartment milk powder container I had was absolutely essential. It was so easy when out and about to be able to just tip the right amount of powder into a bottle. But I couldn't find one.
So I was really happy when MAM sent us the Milk Powder Box for review. This is priced at £4.49, which I think is about the same price I paid for mine 8 years ago. Not too bad.
This container has a few improvements. For one thing, I like its curvy design better. For another, each compartment has its own lid. My old one had a lid that you twisted around, to open on the compartment you wanted. This was OK but it could get messy as powder gritted under the lid.
Overall it was as much a hit with our tester's parents as it was with me. I would say that this is a fiver well worth investing.
MAM Night Soother
So they call them soothers. They will always be dummies to me! The MAM Night Soother (£4.90) is designed to be better for your baby's dental development if they are using a dummy while sleeping at night. Now, my son couldn't sleep as a baby without a dummy but one problem I had was that all the orthodontic dummy's were rejected by him. Whatever it was about the shape and design were not to his liking.
And again, we had the same problem with our tester. She did not like the dummy, or perhaps it was that she couldn't quite get the same grip on it she was used to with other brands. We tried telling her all about the silk teat, with its anti-split surface, and the air hols in the dummy holder that were much better for her skin. She had none of it.
Which is a huge shame as these soothers come with a travel box that doubles as a steam steriliser for use in microwaves. How cool is that? On a scale of coolness that is known only to mummies and daddies, I would rate this as a 10.