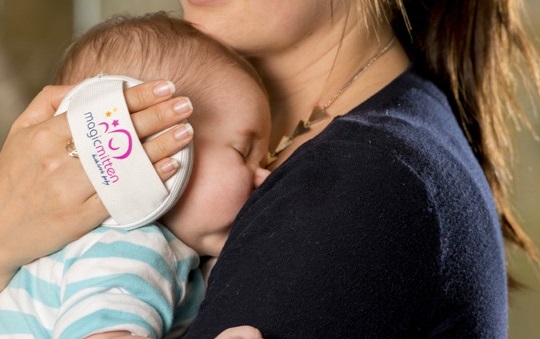 I am constantly astonished at how many gadgets there are appearing on the market for babies. How on earth did we ever manage before? Well we just got on with it really, and that's pretty much the best thing to do now as well. But if technology can make your life easier and less stressful then why not use it?
One area where all new parents are susceptible is sleep. We want it, we crave it, we need it. And very rarely, parents of little babies actually manage to get some. So, anything that helps soothe baby is a good thing, right?
Well not if it sucks your pocket dry and leaves you knee deep in expensive but never used products. The Magic Mitten bills itself as a baby calming aid. That alone may have many sleep deprived mums and dads reaching for their wallets. But the thing is - what exactly is a Magic Mitten? Read on to find out more.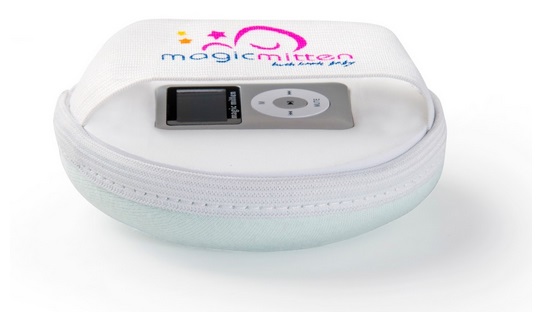 Let's get this out of the way right now. It works! Well on our young, 7 week old tester the Magic Mitten (£29) did exactly what it claims to do.
According to the manufacturer's website, the Magic Mitten is a patented hand held baby calming aid that plays selected settling white noise sounds that only your baby will hear. It can be used at any time, anywhere, by anyone, at home or out and about.  The design allows you to securely hold your crying baby while operating the Magic Mitten to play to your baby's ear specially designed sounds that have a quick  calming effect.
The Magic Mitten has a fixed volume level, and shuts down automatically after 10 minutes. There are three sounds to choose from - Mother's Heartbeat, Ocean Waves, and Rain on Tin Roof.
Our wee tester has not been settling well. Fretful, her parents have switched to bottles designed to reduce colic, but have also found she settles better when the hoover is going, or the fan is on its highest setting.
Her mum thinks  that perhaps her commute on the Northern Line in London each day during most of her pregnancy means baby is more familiar with white noise! Whatever the reason, it works. This hasn't been so great for mum and dad though. The noise alone from the hoover or the fan is starting to drive them potty too.
The mitten slides firmly onto your hand, held in place by a broad elastic strap, The surface of the mitten that presses against baby's head is very soft and squishy. The little music player sits inside the mitten, under your hand.
At first our parents had a few issues with the player. To start with, we didn't realise that it could be turned on and off using the central dial - you don't need to pull it out to access the switch (note - read the instructions carefully!).
Also, holding this to baby's head could be difficult at times, especially when she was particularly fretful.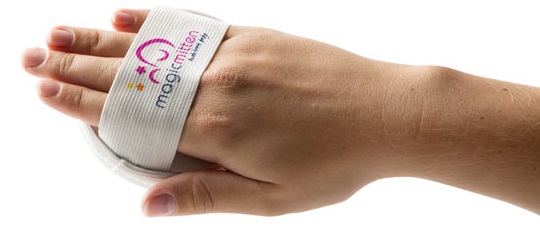 Looking online, it seems that many parents found the heartbeat sound worked best. Our baby however was best soothed by the Rain on Tin Roof, perhaps as this most closely mimicked the sound of a tube train going through tunnels!
Overall our parents concluded that for their baby, the magjc mitten was worth every penny. But our mum advises that this is probably not something to stock up on before birth. It isn't 100% necessary - if you are stuck for cash then there are actually recordings of vacuum cleaners and fans available on the internet (of course there are ...). And of course, your baby may be fine at settling right from the word go and never need any help at all.
Pros: it worked on our fretful baby and for that alone is worth every penny
Cons: the thing is, if your baby doesn't need it then this is an expensive, useless gadget
Overall verdict: 9 / 10