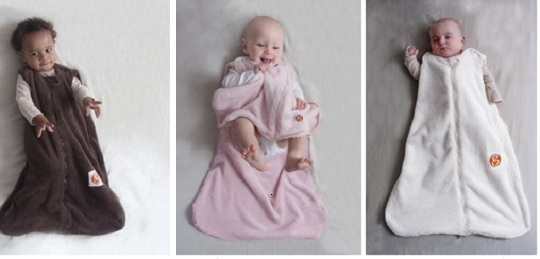 You know those sleeping bags for babies? Well, my firstborn hated them. She would twist and contort her body in ways I didn't think possible, and end up with half her body out or the bag around her neck. It was rather frightening. We found that if we kept the shoulder bits clipped shut, but unzipped the body, she'd kick it off. Now, two years later, she still kicks off every blanket you put on her, regardless of the temperature or time of year.
I wish we'd had the Gunapod with her, because it's a fantastic baby sleeping bag and we're loving it with our new baby.
What makes it different? Well, it has the standard front zipper and shoulder snaps, but then it also has a unique all around zipper, which allows for simple nappy changing, for a start, as you can open just the bottom and baby can remain dressed and warm with minimal disturbance.
You can open the Gunapod in a variety of combinations, as it actually has the option of opening from under one arm all the way to under the other. This means you can also open parts of it if baby is like my eldest and just gets too hot.
For older babies or children, you can also leave the bottom open for free movement of feet or walking around, but staying warm. The fabric is also super soft and incredibly cuddly. It makes for snuggly babies. It's also great for use in the car seat or if you're out and about as there's no need to add a blanket – just transfer baby and off you go!
The only improvement they could make is to add sleeves that could be zipped on and off for long or short sleeves!
The Gunapod is available from Tesco online, and is a highly recommended buy if you're going to be buying baby sleeping bags!