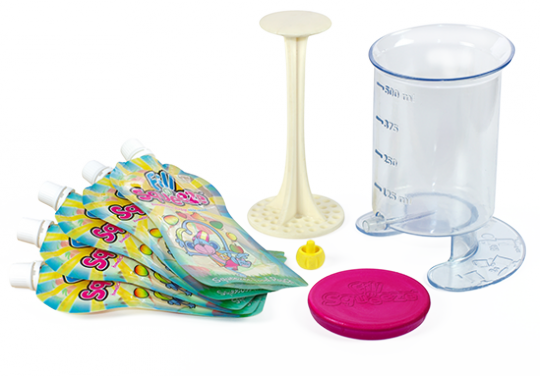 We're a baby led weaning family and neither of my girls has ever been puree fed, apart from three squeezy tubes when we were travelling once, so a baby food product may seem like an odd thing for me to review, but in this case, it counts in the products favour, for sure. Here's how:
Most baby products really only last for baby days, but we only acquired this little gadget when my youngest was 19 months and eating quite well, and yet it's something that now makes up part of our snack box almost daily.
The Fill 'n' Squeeze Pouch Filler Starter Pack (£19.99) contains a pouch filler jug, plunger which doubles up as a masher, jug closure cap, and 5 x 150ml squeezee reusable pouches with lids. You can also buy an additional refill pack for £4.50 which gives you 10 extra 150ml pouches and lids.
You can put your food - or in our case yoghurt - in the filler jug, making sure the closure cap is in place. Then, if required, use the masher to mash your food, rinse it and put the plunger cover on. This creates a really tight fit which leave the edges of the jug pretty clean and food free while the built in pipe allows the yoghurt to be fed through into the waiting pouch (with both the cap and lid obviously now removed.) Fill the pouch, put on the lid, and keep going till you've used up all your filling.
Then wash everything forcing water through the jug to clean it and you're done.
We tend to fill our pouches with home made yoghurt once a week and keep them in the fridge to take one out every day. This way my kids are getting their daily probiotic without me having to buy squeezy tubes of yoghurt any more and I'm able to make sure that their yoghurt doesn't contain the crazy amount of sugar that most children's yoghurt does.
It also means that the pouch can be resealed if they want to have a bit now and a bit later, so there's less wastage.
Cleaning the pouches was my major concern, since they don't have a bottom or side opening, so I was worried about getting at all the left overs, but I've found that just pouring water in through the lid (warm soapy water) and swishing it about seems to do the job perfectly. I've certainly not seen anything to the contrary.
The only thing I would change about the plunger, would be to have the top handle bit be the plunger and the masher to be on the opposite side, so you didn't have to use the one side for both, which would make the plunger less fiddly too. But that is a minor 'looking for something to moan about' issue.
So, this is how we've been using the baby food Fill 'n' Squeeze Pouch Filler really successfully even with older children, making it a great purchase in terms of longevity of use.  It's saving us a fortune in yoghurts and saves me so much frustration in trying to fill reusable pouches.