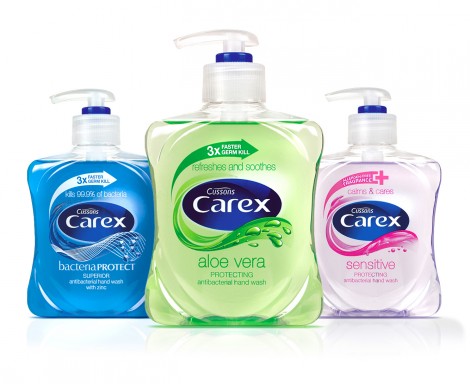 Clean hands. It is amazing how often we are told this, but how often people still don't listen. Recently my daughter's school had an outbreak of threadworms. The most common cause? Poor hygiene, specifically not washing hands after going to the toilet.
It was therefore rather lovely to get in a bunch of Carex products for review. The Carex range apparently kills 99.9%  kills bacteria in seconds and there are some nice varieties to choose from.
The first bottle was the Carex Manuka Honey & Oatmilk handwash. It is utterly delicious. I wanted to eat this more than I wanted to wash my hands with it. It didn't dry out my hands, smelled and felt fantastic and I loved it.
The next one I tried out was Carex Original which is supposed to be dermatologically gentle and supports your skin's natural defences. I'll admit that my hands felt squeaky clean afterwards, definitely, but they also dried out, fast. By the end of the first week my hands were bone dry. It got high marks for that clean feeling but  very low marks for how drying it is.
I do have very sensitive skin, however, so I was prepared to give it some leeway.
Next up were the Carex Aloe Vera and Active Fresh bottles. Both of these left my skin feeling very clean but nowhere near as dry as the Original version. Active Fresh is my next favourite after the Oatmilk as it smells divine and feels great.
These handwashes definitely rate among my top brands. I like the way my hands feel and the different scents. And their price point is excellent – around £1 to £2.60. You can also get ace cleaning songs on their website to encourage your kids to wash their hands.