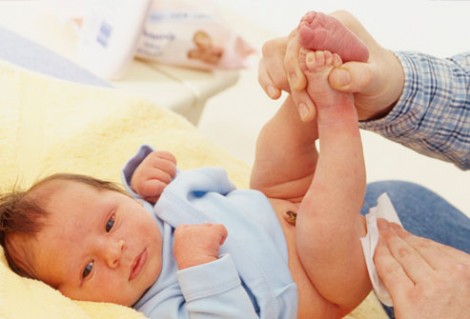 Poor little baby bottoms. They've a lot to put up with. Frankly I couldn't get enough of my baby's little behind, it was so soft and sweet and I just wanted to eat it all up. But it is bumped on, and sat in nappies with all the sorts of things that babies do in their nappies.
To top it all off, it can be affected by hormone changes too. I always knew when my son was about to cut a tooth, because that's the only time he'd get nappy rash.
There's a lot of products out there that aim to soothe baby's behind. I got a selection from the Boots range, and gave them to PlayPennies mum Emily. She tested them out for us, together with her 14 month old daughter.
Boots Nappy Rash Spray
First to be tested was the Boots Nappy Rash Spray (£5.60, 100ml). This is designed to be used with one hand, useful when the other hand is holding up a little backside. The idea is that you spray two to three times on the baby's bottom and that's it. No need to rub it in.
Emily was delighted at seeing the solution in spray form - it is a new product. "I've been using various creams and unguents on baby's bottom for a while now, and I always hate having to stick my finger in a tub, use the cream, then proceed with the nappy and dressing, knowing all the while I've got a bit of an icky finger. A spray seemed like a great idea!"
Obviously as this is a spray, it is a thinner liquid than any other bottom cream would be, so it's quite runny. Emily found that it covered the area pretty well, but if too much is used, it can run down towards baby's back.
Unfortunately, Emily's daughter didn't like the spray. "The bottle is kept at room temperature, but she always flinches and stiffens her whole body when I surprise her with a squirt on the botty."
Boots Antiseptic Nappy Rash Cream
Emily had trouble opening the tub on the Boots Antiseptic Nappy Rash Cream (£4.18 300g). "It was a sealed jar and I needed a knife to break the plastic circular seal. Once in, I gave it a sniff and found it to be quite an odd smell, probably because of the antiseptic nature of the product."
It is an antiseptic cream containing Cetrimide and Dimeticone. Emily found it very similar to smell of Sudocrem. But not as thick. It spread very well on baby's bottom. "I used it for a few days and it cleared up a little bout of nappy rash. It's an ok cream, nothing to write home about though."
Boots Zinc and Castor Oil Cream
The Boots Zinc and Castor Oil Cream (£1.42, 125ml) claims to create a barrier against moisture, helping to protect against nappy rash. It is hypoallergenic and paediatrician approved.
Emily was pleased that it had absolutely no smell whatsoever when she opened the tub. She doesn't like using perfumed or chemically items on baby's botty. "The lotion itself is quite a greasy one (likely due to the castor oil element), creating more of a barrier on baby's bum than a regular cream would do. When I tested it on the back of my hand, it had a very slight smell, but it was not a scent that I could put my finger on. Maybe it just smelled like babies! I'd recommend this cream as a good barrier cream."
There was one issue though - it contains peanut oil. If your baby has a severe allergic reaction to peanuts, then this could be one to avoid.
Boots Sensitive Bottom Balm
The Boots Sensitive Bottom Balm (£1.35, 100ml) is for daily use on sensitive and dry skin conditions, including eczema.
Emily has reviewed other items in the same Boots range, such as the Baby Sensitive Moisturising Cream in this review. The Bottom Balm, like the moisturising cream, says that it is suitable for newborns. Although it doesn't say so specifically on the website, according to Emily the balm appears to be fragrance free.
She tested it out on the back of herhand before trying it on baby. "The bottom balm is a very thick cream, perfect for creating a barrier on baby's bum. When I tried it there, it spread well and covered the area. It's slightly greasy and leaves a shiny look on the skin."
Boots Sensitive Baby Wipes
The final item we reviewed were the Boots Sensitive Baby Wipes (98p for a 72-pack). These are also fragrance free, and according to the website contain a lotion to help protect delicate skin. It doesn't say what this lotion is though, or how it does this.
Emily's first impressions were good. "The Boots baby wipes are nice and moist, and are of a good soft quality. The packaging has a little plastic flip top lid, which I think is great for keeping in the moisture."
She decided to test the baby wipes by comparing them to her preferred brand, Johnsons.
When it comes to size, Boots came off a rather poor second.
Johnsons: 16cm by 22cm = 352cm squared
Boots: 15cm by 17cm = 255cm squared
This isn't the first time Emily has tried out another brand. "I've used a few different types of baby wipes over the last year, and I always end up going back to Johnsons, even though the Johnsons packaging annoys me."
So, her final verdict? "I like the wipes overall, but the size issue will prompt me to stick with the Johnsons."
This one does seem to be down to personal choice. I never got along with the Johnsons wipes at all. Nor the Pampers ones. In fact, the Sainsbury's fragrance free wipes worked best for me, and I quite liked the thickness of the Huggies wipes.
And Finally ...
It is interesting that so many of these products say they're for use from newborn. I found that for the first few months, cotton wool, water and just good old nappy free time worked just fine. Have other people had different experiences?