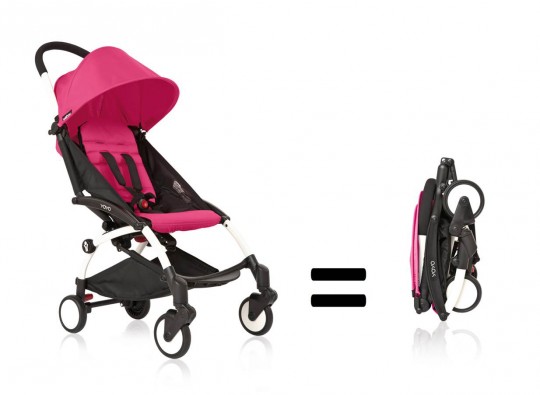 Ooh, the Babyzen YoYo is a seriously clever little thing. (£265 from Mothercare*)
It's the first stroller in the world fully compliant with IATA guidelines for cabin baggage dimensions (56 x 46 x 25 cm, or 22 x 18 x 10 in).
See, I told you it was clever. Makes you wonder why no-one thought of that before now.
 And I know what you're thinking because I thought the same: any buggy designed to be small enough to fit into aircraft overhead baggage compartments must be pretty flimsy. It surely can't be very robust or, you know, functional. But you'd be wrong.
BABYZEN™ was founded by a group of five French individuals who asked themselves the question: "Why should we continue carrying children in strollers that are bulky, unpractical, and so poor-looking?" And lo, they dreamt up the YoYo.
Here's what the press release says:
"As most parents know buggies have always been c
umbersome, and parents often face a struggle getting them up and down stairs, forcing them into car boots and onto packed tubes and buses, not to mention trying to store them away at home. And anyone who has flown with a young child will also be familiar with the hassle of having to get the buggy packed away into the main luggage hold as it is simply too big to take on as hand luggage. Thankfully these days are now over as the new YOYO buggy has been revolutionising travelling with a small child."

I was seriously sceptical about this but as soon as the YOYO arrived I was impressed - I thought there must have been a mistake at first, as the box didn't look as if it could possibly contain a buggy - it was just too small. But inside was indeed the YOYO, in a handy drawstring bag no less, making it super easy to store and carry around.
I expected the buggy to impress with its dimensions, but assumed it would be less than stylish or comfortable during use. Wrong again. The YOYO buggy boasts generous dimensions, with a 106 cm high handlebar (42 in), a decent sized seat, a large protective sun canopy, a solid footrest, and 4-wheel suspension.
It's also incredibly easy to fold and unfold, and it's even possible (just about) to do it one-handed.
The YOYO is manoeuvrable too. The suspension system makes for a smooth, comfortable ride (I know because I got my sons to test it out, and they're old enough to tell me)  and because it's fairly slim (44 cm / 17 in. wide) it's also very nippy so good for zipping in and out of shops and crowded spaces like airports.
My favourite feature though is the shoulder strap attached to the buggy which enables you to carry it like a bag, without even having to put it back inside the carry bag it comes with. And when you unfold the YOYO, the shoulder strap simply tucks itself inside the shopping basket. This is such a clever idea - no more struggling with unwieldy buggies when your arms of full of baby at those moments when you have to fold the buggy like when using public transport or navigating airport steps. You can collapse this easily and literally throw it over your shoulder.
The seat is decently padded and it has a multi-position reclining backrest, up to 140°, so good enough for babies and toddlers to snooze in.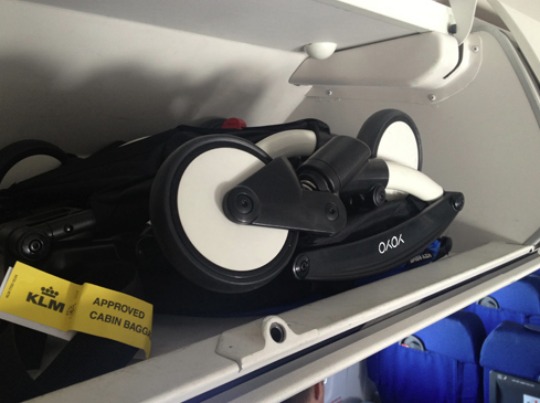 All the fabrics of the YOYO can be removed easily and are machine washable at 30°C, and they come in a range of colours too so you can change the look of your buggy when you wish.
The shopping basket is certified for a load of 2kg and it's easy to access.
The manufacturers warn that some airlines may have more restrictive policies, so do check that they're happy to have this as a cabin item before you travel.
Pros A light, manoeuvrable and stylish buggy that's small enough to take on an aircraft as carry-on luggage and which has an inbuilt shoulder strap to make it super portable. What's not to love?
Cons Erm... I guess it would be nice if it could make you a cappuccino.
Overall verdict A genius idea, brilliantly executed. 9.5/10.