Woven Summer Holiday Bracelets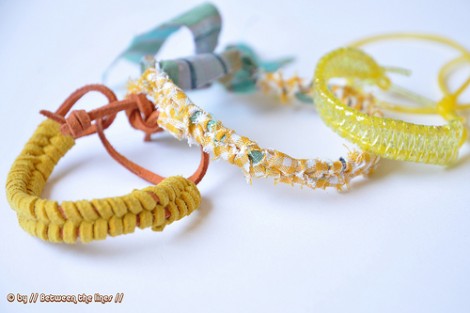 So we're half way through the summer holidays now give or take a few days here or there, although if you're in Scotland I believe you're on the home stretch now with just one more week to go!
How's it going? Are you pulling your hair out? Are the kids bored? Is it going ok but you'd like something nice and crafty to do with your kids that's a bit different from painting?
How about making some summer bracelets/keepsakes out of little old (or  new if you prefer) bits of material?
A few years ago plastic type laces that went by the name of Scoubidous were ALL the rage and my, then, pre-teenagers were utterly obsessed with them!
Everyone in the family, immediate and extended, had some sort of Scoubidou something hanging off their keys. It kept the kids amused and each recipient loved their handmade gift.
Well the principles behind these lovely woven bracelets is the same and is sure to keep the kids, and you, entertained for a few hours on a drizzly day or when there's nothing much else going on.
The applications for things like this are limited only by imagination - bracelets (yep), things to hang on your keys (yep), use festive colours and make a SUPER long one to string around the Christmas tree (yeah, I'm sorry my mind is already working ahead for Christmas time, it's a curse).
This is even the sort of thing I'd make on my own just to do something that doesn't involve any sort of technology, getting 'back to basics' and doing something just for the hell of it.
If you make some of these with your child(ren) then we'd love to see your creations!