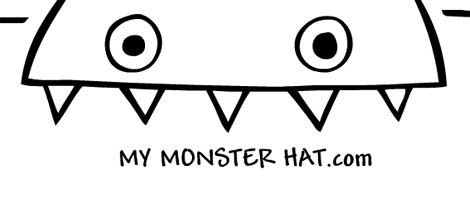 I love hats!
My nan used to make the most AMAZING Easter bonnets - I'm talking huge works of art that won awards and all sorts.
My mum loves hats - we used to spend ages in the hat departments of John Lewis and BHS trying on all the hats and being daft. My mum makes hats now, awesome ones too!
I'm rubbish at making hats, in fact anything that involves sewing, knitting, crocheting and I suddenly wish I'd paid more attention in textiles at school.
But I like things that aren't run of the mill and that usually means making them yourself - so I was rather delighted when I came across mymosterhats.com
These aren't the sort of hats my mum makes, although she could, but she lives in Italy and bla bla bla - so for $15 plus international delivery (which can be less than Argos' extortionate delivery charges) I can have a one-off tailormade monster hat that looks like he's bitten the top of my head off.
What?! He appeals to me!
Of course, if you're the arty-farty-crafty type I dare say you could whip up some hat creations of your own.