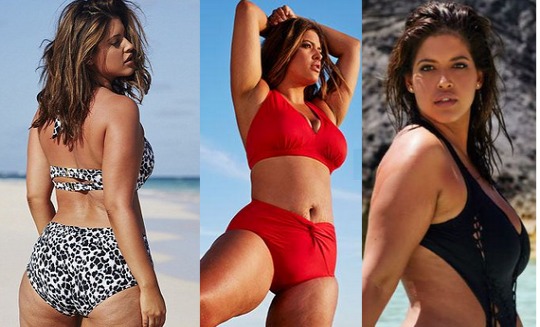 It's not often you see photoshoots of a woman in a bikini over a size 12 anywhere, so when we came across the new campaign for Swimsuits for All we were left feeling very refreshed. The stunning woman featured is Denise Bidot, who is a plus size model. Not only does this campaign break boundaries by using a "curvier" lady but they have dared to do it with no Photoshop alterations of any kind. The results are astounding. There's cellulite, soft curves and not a toned bit in sight. She is absolutely stunning and her body doesn't repulse me in ANY way, shape or form.
This left me wondering why we put so much effort into altering photos? 99% of images in magazines are Photoshopped to within an inch of their lives. Why? To make us mere mortals feel like we can never be good enough? It is beyond me.
I wonder if anyone else - like me - looked at the photos of Denise Bidot and realised that - if you were to cover her face up - her body could easily be mistaken for yours? I look at her and see an absolutely gorgeous woman, yet I have NEVER worn a bikini in my life. But I am also left feeling guilty about my own body hang-ups.
My son is 15 months old and I have yet to take him swimming. I have used a million and one excuses... I have work, I can't go with ALL of the kids so I won't take any, I'm full of the cold. The harsh reality is that I just don't want to put on that swimming costume. I cannot do it. All those lies I told myself about why we haven't been to the pool yet have nearly managed to convince me - but deep down I know this the real reason.
I love my children to the moon and back, times infinity... you get the gist. They are my everything, so why won't I run the "Mum's Race" at their Sports Day or take them down to the Leisure Pool? My own vanity, BUT the pressure is on to look like some toned, bronzed Goddess, is it not?
I for one support Swimsuits for All's Campaign #BeachBodyNotSorry because why should I be ashamed of my body? It's the very thing that loves my husband and my children, that looks after them, and so I have to let it do fun things with them too, like swimming.
Do you miss out on the fun stuff with the kids because of how you feel about your own body? Let us know and alleviate my fears that I am not the only one.
Image credit: Swimsuits for All