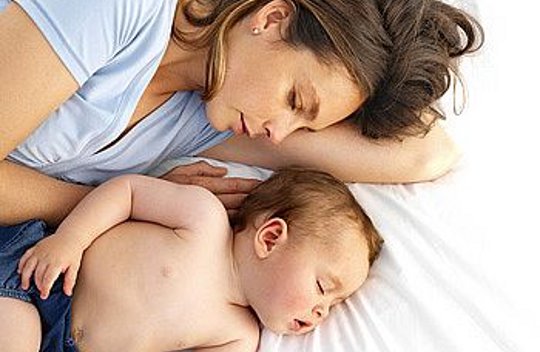 I was sent a link to an article in the Daily Mail this morning, on new research claiming that babies should sleep in the mother's bed until they are at least three years old.  I must warn you about two things: I co-sleep and advocate for it, and secondly, I love this kind of 'research' because the debate around it is usually heated, and full of 'study of one' anecdotes, with everyone using their own child as their empirical research sample.
This study, conducted by Dr Nils Bergman of the University of Cape Town, South Africa, says that 'for optimal development, healthy newborns should sleep on their mother's chest for the first few weeks', and …"they should stay in the mother's bed until they are three or even four years old."
The reasoning behind it is that the sixteen babies monitored in the study showed three times the stress on their hearts when they slept alone as compared to sleeping next to their mothers. Being in a cot also apparently disrupted the babies' sleep, and their brains were less likely to transition between active and quiet sleep.  In the cots, only six of the 16 babies had 'quiet' sleep and the quality of the sleep was worse than when they were in their mother's beds.

Dr Bergman claims that the stress hormones make it more difficult to form relationships later on, leading to problems such as promiscuity. He also said that the damage sleeping separately does to the brain leads to bad behaviour as the child grows.
Despite, the images in the article seemingly contradicting the findings – a baby lying next to its mother in what most co-sleepers would consider a dangerous position for such a small baby, and an almost-smiling baby alone in a cot, I find the research interesting, and personally stand in agreement for myself and my family, it's the comments on the article that really amuse me and make for quite entertaining reading.
The problem is that every parent and every family do what they feel is best, generally based on the last bit of research that's come out, and more often than not, based on what their own parents did.
Conflicting bits of research don't really help either, with SIDS research in the UK showing that two-thirds of unexplained deaths occurred in the bed, (but we also know that there is safe and unsafe co-sleeping).  No matter how many times your health visitor might tell you it's not safe, most mothers at one point or another find themselves sleeping in their bed with their baby – something the NCT is in favour of, "as long as the parents have not been smoking, drinking or using drugs and are not obese, ill or excessively tired."
Whatever each person's decision behind the closed door of their homes, it's both frustrating to know that you can find research to support your point of view on almost any aspect of parenting, and liberating to know that following your parenting instinct is probably the safest route to a happy home.