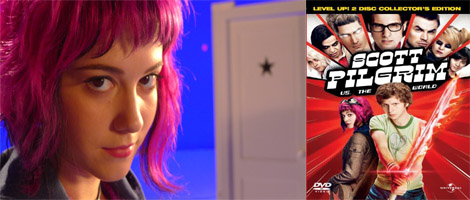 This is one movie that I'm quite sorry I didn't get to see at the movies. I know I'm not exactly the target age group but the idea and the sense of fun are ace. Scott Pilgrim vs. The World is now available to pre-order through Amazon for only £9.99, which is around £10 off the recommended retail price.
The pre-order price guarantee means that even if the price goes up after you've paid, you still only pay the £9.99, and it comes with free delivery. So, what's the movie about? Scott Pilgrim is a bass guitarist for a totally average garage band called Sex Bomb.
He's just met the girl of his dreams – Ramona Flowers. I love her insane hair, myself. I have always wanted to try out blue hair. The thing is, he's fallen madly in love with her but her seven evil exes are coming to kill him and he has to defeat them in order to get the girl.
The movie is directed by one of my all time favourite film people – Edgar Wright – who has Hot Fuzz and Shaun of the Dead to his name. Enjoy!
Thanks to soonforgotten at HUKD