Lord Of The Rings Trilogy (Blu ray) £11.11 @ Play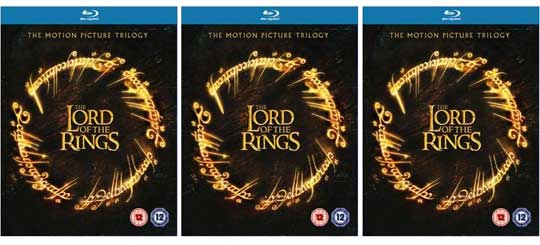 Everyone's been doing a double-take when they see that Play are selling the Lord of the Rings Trilogy on Blu ray for just £11.11!
I have a confession to make - I've never read the Lord of the Rings books! I've read the Hobbit, of course, I think most people have, and I did try to read Lord of the Rings on several occasions, although I was about 10 and the size of those books was just a bit daunting.
I loved the Lord of the Rings movies and I own them already, in standard format, but think I really am going to have to invest a Blu ray set - I've become a recent convert to the magic of high definition and once you've gone there, it's not very pleasant having to go back.
Six discs make up this Lord of the Rings Trilogy and would make a rather nice Christmas pressie, I think, for any Lord of the Rings or Hobbit fan.  Talking of the Hobbit, I can't WAIT for that to hit the big screen - I was utterly mesmerised by it as a child.
No delivery charges to pay for UK mainland delivery with Play, so £11.11 is it.
Thanks to Sliwka at HUKD