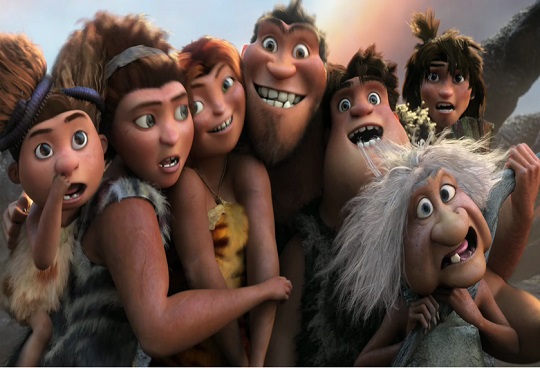 Now I'm not averse to kids movies at all. Some of my all time favourite movies fall into the U category, and PG. But I do find most of them are OK but not what I really wanted to spend my money on. And the movies cost a lot these days, you have to be really sure you're getting value for your money before forking out dosh on tickets. Especially when it gets to £40 plus for a family of four.
So as a result, most of the time either myself or my other half takes our son to the flicks. You don't really want to spend all that money on two adult tickets when it is something you'd happily wait for the DVD to watch (and even then could give it a miss. Yes, Gnomeo and Juliet, I am looking at you).
Then along comes a movie like The Croods.
If you're wondering what to spend your Easter holiday treat money on, then read on to find out more.
For once, I was caught by the trailer, and so was my husband. We decided to make that our family day out and my son was thrilled, he couldn't believe both mum and dad were going!
The Croods is a Dreamworks animated movie that follows a prehistoric family who embark on a journey of discovery when their cave is destroyed and they are forced to find a new home.
We went to see the movie at an Odeon cinema. This is a slight trek for us, but the seats don't cripple my husband's back, they're comfy with big cushions, there's a good amount of leg room, and the sound quality is always good there.
First off, I'm glad we went for the 3D option. Both of us wear glasses, so we don't find 3D a lot of fun, and my son has never been that fussed either. So usually we do the 2D option. But we made an exception and it was worth it. This was, for the first time, a proper 3D experience all the way through the movie. That is, the 3D is really a part of it, not just an occasional slow-mo wooshing out of the screen.
And then there's the action. To be honest, this isn't a complicated storyline. What makes this movie are the characters, each of whom could have carried a movie on their own. And that include the monkey. But also it has been ages since I laughed so much.
It is a movie I can recommend to anyone looking for a nice, fun family afternoon out. And what is also nice about the movie is that there's a functional family (caveman family, but still functional) at the heart of it, there are strong female characters who have flaws, and strong male characters.
I give it a five star rating!