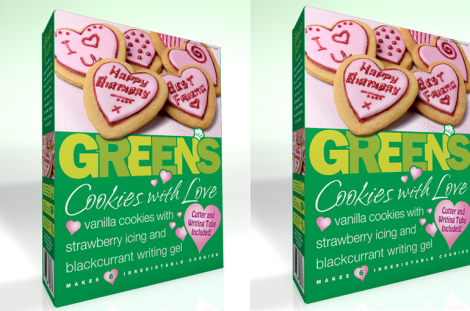 Looking for something yummy and easy to make with your kids for Valentine's Day? These are it. Green's Cookies with Love are a tasty £1.25 at ASDA, are easy to make, and taste delicious.
I am not a very good cook. I adore baking but cookies and cupcakes continue to be my nemesis. I cannot get them right. So it's great to be able to buy a pack of ready-to-go cookies that don't taste fake or have a chemical aftertaste.
Cookies with Love come with strawberry icing and blackcurrant writing gel so you can write little messages on them, and have fun decorating them. They are perfect for making with the kids. My daughter utterly loved creating these with me.
All you have to do is pop the extra ingredients into the provided mixture, stir it all up, roll out the dough, and cut out the heart-shaped cookies using the provided cutter. Yes, you also get a cookie cutter in the shape of a heart.
Ours worked perfectly first time. You cook them for about 10 mins and then, once they are cooled, you can add the icing. The icing is a bit tricksy to apply and ours looked nothing like the picture on the box. More like they had been attacked by icing, but anyway.
The provided writing gel is tough to use. You really have to squeeeeeze the tube to get the gel out and it comes out in blobs. My daughter made great patterns with it but it was too difficult to make proper writing that looked seamless. This was the only negative, though.
Otherwise, Green's Cookies with Love tasted delicious and we had loads of fun making them. These are a definite must for afternoon baking and creating with the kids for Valentine's Day.