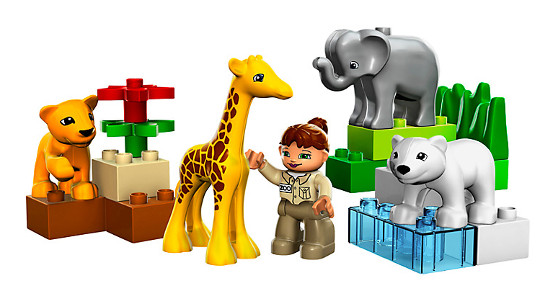 We have so much Lego Duplo, Starwars and Friends in our house at the moment, that when a friend's son turned two recently I decided to spread the addiction. We've ended up with three boxes of theLego Duplo Baby Zoo over time, so I decided that would be a great starting point for a first timer. 
The Baby Zoo consists of 18 pieces, included in which are an elephant, polar bear, lion, giraffe, two flowers and a zoo keeper. One of the bricks is a water brick - a see-though blue brick, for the polar bear or elephant to frolic in, and one is a grass brick - long grass for the lion cub to prowl about in.
The bricks themselves are limited in what you can build with such a small amount, but obviously you can add them to any other Duplo sets for more building potential. The bricks are large, perfectly sized for small hands, and too big for small mouths, generally - I would certainly say not swallow-able.
I love this set, because of all the figurines that come with it. It makes it the perfect starter set, or it can be added to sensory play tubs, or just used in general play, so the options are pretty limitless. We also have received the number train recently, which I'll be reviewing later in the year, and it works really nicely with that, as you can basically make a zoo train. It's great fun.
These animals are incredibly durable and put up with a lot. They've been chewed, stood on, thrown, banged and they're in as new condition. I can't recommend them highly enough, and would give them as a first Lego set again and again. This set is normally around £12 on Amazon, but is currently on sale at John Lewis for £6.79