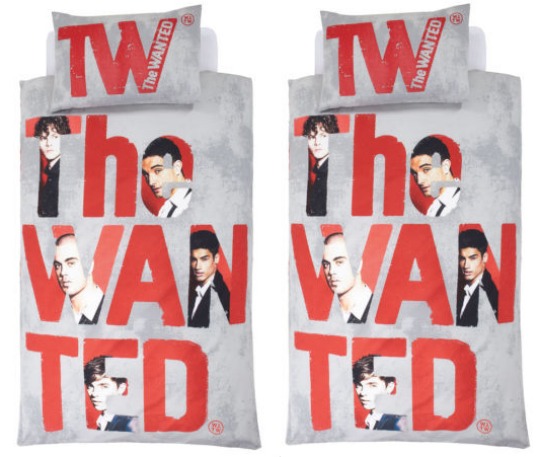 When I said I would like Max The Wanted on my bed, this was NOT what I had in mind. Right, enough of my smutty talk. Littlewoods Clearance @ eBay are selling this The Wanted single duvet for only £2.99, the postage is annoyingly £3.95 which means you get a nice single duvet cover set for the bargain price of £6.94 delivered.
The Wanted have been quiet for a wee while now, but we can forgive them for that because they are so flaming scrumptious. It's much more acceptable to like these as they are much more manly than 1D. Sorry, I have been distracted again. Back to the duvet cover. It's for a single bed, it's reversible and comes with a matching pillowcase.
On one side are the ever so eye pleasing guys of The Wanted, reverse it and you have a band logo design. It's machine washable and will thrill any TW fan.Even though I have been swooning over this, I am pretty sure it's aimed at children and pre-teens. Don't go buying it and telling hubby you bought new bedding for the spare room, and that he can have your bed to himself tonight. He will NOT be impressed.