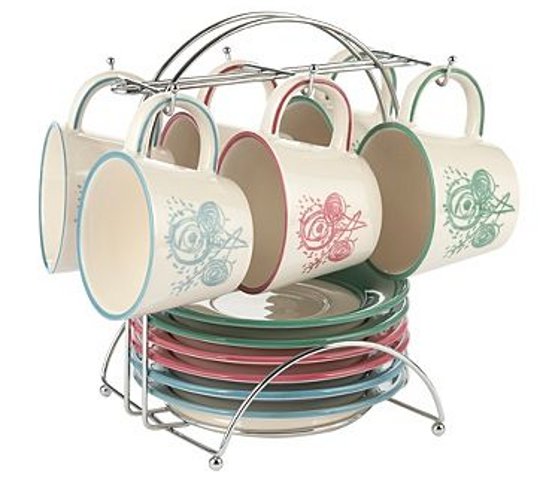 The Twelve Piece Posie Tea Set was £40, reduced to £20 and now further reduced to £12, and comes with free delivery and returns.
If you come to my house you'll be offered coffee, tea, chai, hot chocolate or one of about 15 varieties of herbal infusions… but you'll be offered it in a mug. I simply don't have space for mugs and cups… or so I thought. Looking at this set, I'm actually tempted to buy it. It's pretty without being sickly and it doesn't take up too much space… hmmm…
So, this is a twelve piece 'Posie' tea set from the 'Lifestyle' range by Lisa Stickley. It has an 'abstract floral design' and consists of six cups and six saucers, which slot nicely into the stand below the hanging cups.
The tea set is dishwasher safe, microwave safe and has five stars from all three reviewers. It also comes with free standard delivery and free store collection.
Thanks to daisymeisha10