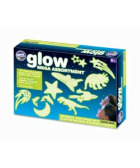 Usually £12.99, this mega assortment of glowstars is a great price at £4.99.
The box consists of an impressive number - 101, to be precise - of plastic glow-in-the-dark planets, stars, dinosaurs, dolphins and spacecraft, plus a whopping 510 paper glowstars from The Original Glowstars Company.
I remember these being around when I was little, so they're one thing for kids that has been around for yonks and survived the trends and fads that come and go.
They can be used to create a brilliant backdrop on ceilings and walls and you can also use them to accessorize school books, bags, furniture and, well, whatever else you can think of, really.
I think these are a great idea for kids who are less than comfortable in the dark. My two have only recently started to be afraid of the dark and I reckon bedecking their walls and ceiling with these will go a long way to helping them overcome that fear, and recognise that the dark can be adventurous and fun, too.
Thanks to millarcat at HUKD