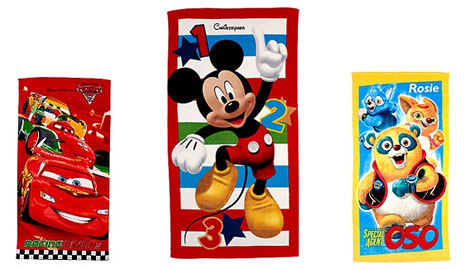 If you go over to the Disney store online you can pick up Disney character beach towels for £9.00 instead of £15.00.
I love towels.
I adore opening the airing cupboard door and seeing piles and piles of soft fluffy towels all folded neatly, and bundled together in the right colours.
Thankfully I've grown out of wanting Disney character towels, otherwise I could be in big trouble.
You see, when there are normal towels on sale I have an almost overwhelming urge to buy several of every size of them; I don't, however, have any desire to have fluffy stacks of Disney towels.
They are rather lovely though - measuring 152 x 80cms - and can be personalised with your child's name (as long as it's not more than 12 letters long).
They are 100% cotton, machine washable and there are lots and LOTS to choose from, for both boys and girls.