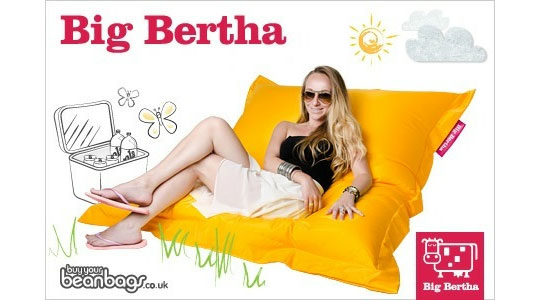 As son as you hear or read the words 'Big Bertha' you just KNOW that what's being spoken about is MASSIVE - it's no wonder that Bertha has fallen off the 'Most Popular Girls Names' list!
It's not just this Big Bertha giant bean bag that's massive here, the saving to be had with this Groupon deal is pretty hefty too, the usual full price for a Big Bertha is £135, you can grab one for £39!
I had a bean bag when I was little - it was red and the cover was made from red fluffy material, I lived and died on that bean bag until I either got too big for it or I 'killed' it with excessive use.
This Big Bertha giant bean bag is not only H U G E - measuring a whopping  160 x 140cm with a 350 litre capacity - it's got double seams and has been made to be TOUGH.
The giant bean bag comes in 11 different colours and the outer layer is water resistant, so you can be carefree when it comes to anyone being careless enough to spill anything on it - it also means it can be used on damp grass, Big Bertha doesn't mind getting her bottom wet.
Now, there's not much time left to take advantage of this deal - it expires at the END OF TOMORROW (Tuesday 19 June) - delivery will cost you an additional £14.95 (come on, we've already established it's a large item!) and you should allow six weeks for it to arrive on your doorstep...who knows, the sunshine might have actually returned by then!
Happy lounging around on a Big Bertha!