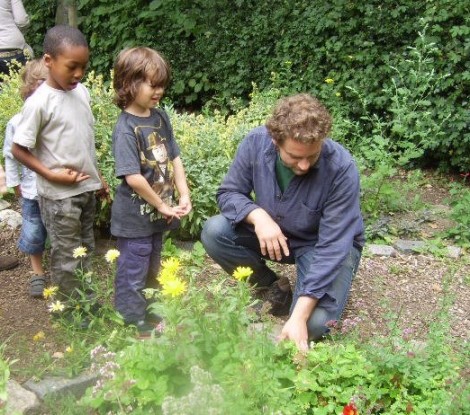 It all started with an after-lunch conversation a few weeks ago. Having munched our way through a delicious salad, with new potatoes and spoonfuls of gorgeous roasted courgettes, my host mentioned that nearly everything had been grown in their vegetable patch.
"Oooh how did you manage to get an allotment" I asked, knowing two things. That their tiny back garden was entirely decked over, and that the waiting lists for allotments around here stretched to lifetimes.
"We didn't", my host replied. Her husband and a friend had joined with others through a scheme that matched you up with people who had land. They'd joined about 18 months ago, and this was their first really successful harvest.
I've written a bit on PlayPennies about growing your own food. You can read more about this in Save money with your garden for example. It is a great way to cut back on the food bills, especially if you are worried about what goes into your food. Growing your own organic vegetables, fruits and herbs is far cheaper than buying them, although it takes a lot more time!
National Allotment Week
This is also National Allotment Week, which is run and organised by the National Society of Allotment and Leisure Gardeners Ltd. Starting today, and running until the 14th of August, there's a whole range of activities and open days being organised for allotments all around the country. Many sites plan to sell off excess food, so it is a good chance to buy local produce.
A study released by the consumer organisation Which? at the start of the summer found that a quarter of us now grow our own food, and that this trend is increasing. The report found three reasons for this:
increases in food prices
desire to eat more healthily
less disposable income
As two of those drivers show, we're growing food mostly because we need to, not because we simply want to.
Landshare
Back to the lovely lunch I was having, which is making me hungry just thinking about it. My hosts had solved the problem of lack of garden, and lack of allotment availability, by using a website service called Landshare. This puts you in touch with landowners who have space to spare. Launched in 2009, it now has 55,000 community members.
If you belong to, or can put together, a community group there's another option available to you. This is the fairly recently formed Community Land Advisory Service. Run by the Federation of City Farms and Community Gardens, its remit is to "make more land available, and to facilitate access to that land, for use by community gardening and food growing groups across the UK." You can find out more about how it works and how to apply on its website.
Finally, you can opt for an informal agreement if you have a friend or family member with a large enough garden. To either run a vegetable patch between you, or to use the land in return for some of the produce. If you go down this route, make sure you set out clear ground rules first. Such as the hours you might be likely to spend digging or otherwise working on the patch, and what sort of access you'll need or use with regard to their home and garden.
Allotments
What about that holy grail of the urban gardener, an allotment? It isn't totally impossible to get an allotment, although these days it isn't easy either. First you need to find one. Your local council can provide you with this information for your local area. If you live in London you can try the London Allotment Network.
For advice and help from more experienced allotment holders, you can't beat the Allotment Vegetable Growing site.
If there are no allotments in your area, you can start your own! To do this you need to get six or more people to petition the council. The council is obliged to look into buying or renting land for allotments. This might be difficult in urban areas where there's little land to be found for this purpose. But you can give the council a helping hand! The National Society of Allotments and Leisure Gardens can provide information and advice on how to go about doing this.
Tip of the iceberg (lettuce)
Why do I feel that this is just the tip of this subject? The more I look into the possibilities surrounding growing your own food, the more intriguing it becomes. And the more attractive! I would love to hear from PlayPennies readers about their own experiences, in gardens, window pots, and allotments.