Silver 4GB USB Cufflinks £22 @ LyncMeUp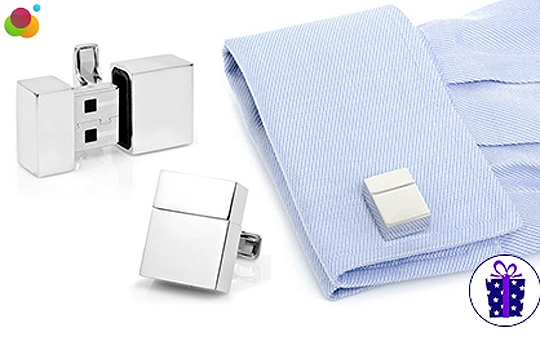 Now that Christmas is nothing but an expensive memory, VALENTINE'S DAY is the next commercial rip off which most consumers will blindly buy into - I'm a Valentine's Day scrooge, as well as a New Year's Eve/make-New-Year's-resolutions-just-so-you-can-break-them-and-feel-bad-about-yourself one!  BAH HUMBUG to it ALL!
However, if you are a lover of the day for lovers and are looking for a little pressie for your man then these silver 4GB USB cufflinks could make for a slightly different, and practical, gift  - and if you are a man reading this, then you can either buy them for yourself 'just because', or point your girlfriend/wife/boyfriend/husband/partner/significant other/whomever in this direction ( subtle hints and all that!).
They'll set you (them) back £22, rather than their full £99 usual retail price and I think they're rather fun - I can't imagine anyone would carry around lots of their important data on them (maybe some would) but they'll be rather handy to have to hand, when it would be easier to transfer data instead of emailing it.
Or perhaps they're just a gimmick - well the USB storage bit at least, I'm sure they do an admirable job of linking cuffs.
For those who always require the ins and outs:  the cufflinks are made from silver and stainless steel, the 4GB data storage applies to one of the cufflinks only - so it's not split 2GB and 2GB across the pair - delivery will take between five and seven working days (they do ask you, nicely, to allow for 14 though), delivery is included in the price and you've got until 11.59pm on Wednesday 9 January to place your order.
Happy double cuffs and data!