Personalised Framed Love Hearts Watercolour with Card - £25 @ Amazon Local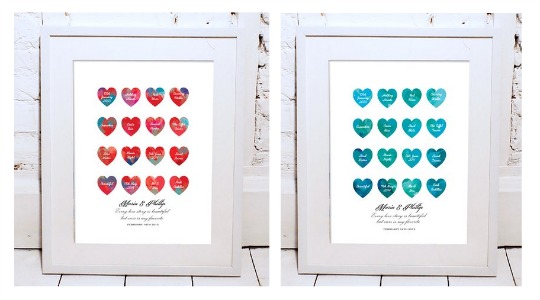 If you are looking for a Valentines gift that is a bit different and more personal, then this might be the one for you. This beautiful Personalised Framed Love Hearts Watercolour and Card gift is less than half price at Amazon Local. It's made by Treasure On The Wall and is down from £54.98 to £25, and delivery is included.
The Love Hearts can be personalised with your own words, thought and messages which are written on the art work. You can choose from a nine or sixteen heart layout, and from four different colour schemes, so you aren't just restricted to reds and pinks. With the different colour schemes this could work well as a gift for anyone, and is not restricted to Valentines either. You also get a card with the framed art, though this is a Valentine's Day card.
If you do want this to give on Valentines day then there is time left. Once you have created the collage you want online they e-mail it to you within 5 days, then when you approve it you can expect it in another 5 working days.
I think this would make a lovely gift, and will certainly last longer than roses. Gosh, I'm getting sentimental in my old age.