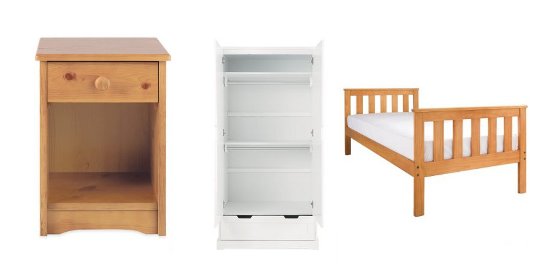 The Mothercare sale continues and there's currently 30% off furniture for children's rooms. Delivery is free to store, although for larger items you may just want to pay the £4.95 for orders under £50 – or add something else to your order.
Kitting up for a child can be incredibly expensive, and honestly I've never understood the concept of a 'nursery' as such – spend a fortune to two – four years later spend another fortune on redecorating? Not me thanks. I'm just too tight-fisted for that! At some point, however, I suppose it will become necessary, and when that time comes for us, I'll be glad for offers such as this one.
Starting at £42 instead of £60  for an antique Mothercare Bedside Table, prices range through to the Hannington Wardrobe, or thePrimrose Wardrobe, both of which were £400 and are now reduced to £280, there's almost everything you need to furnish a room.
There are a few beds to be had in the sale too, and the Jamestown 3ft Bed in White is reduced from £180 to £126 and comes with free delivery.  You need to buy a mattress separately, but in my experience, the 'free' mattress you get with beds is usually pretty rubbish anyway.
Happy decorating!