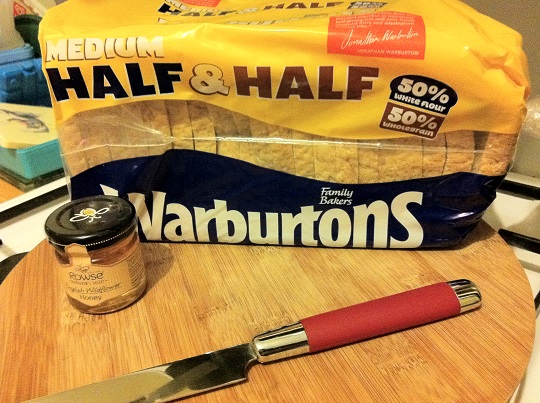 Summer is here! I know, I'm being a bit premature, but after having a winter that started in September and finished in April this warm weather feels like summer to me. And just at the right time, Warburtons, the breadmakers, has launched a few new ranges.
We received a wide range of products to review. And much to my dismay I got to review them. I say dismay because I can't actually eat any bread products. Instead I had to watch as my family scoffed them down. Read on to find out what they thought and to read as I weep ...
We received a large hamper box stuffed with straw and all the goodies you'd want for a lovely summer picnic. Pots of honey, jars of jam, and lovely, squidgy soft bread.
First up for testing where the Half&Half Rolls (pkt 8 £1) and Half&Half bread (£1.35, 750g). Now I buy these for my son from another brand, and he isn't thrilled with it much preferring white bread. These are also made from half white flour and half wholegrain but the important thing is that they look far more like white bread.
Which is what my son thought, and he was thrilled. The bread looks like a good consistency, and the flavour is obviously good too judging by the way his lunch box came back entirely empty all week.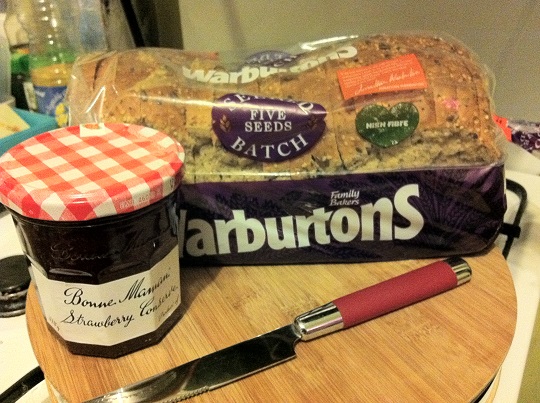 Warburton's Seeded Batch loaf toasts really well. It comes out crisp, and soft on the inside at the same time. It also made really great sandwiches, and my husband said that he liked the bread. But overall, he doesn't like seeds in his bread so not a big hit. I wish they did this in a wholemeal loaf that I could eat though, it looked yummy.
The loaf has five seeds - linseed, millet, poppy, sunflower, and sesame seeds.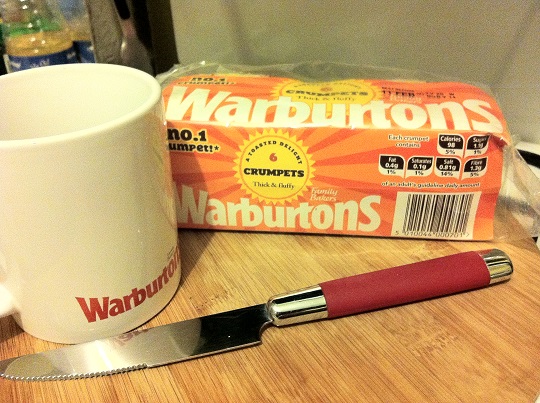 Warburtons crumpets (80p)! What can I say, these were nearly perfect. They were so plump and juicy that a crumpet hardly needed any spread on it. This was the biggest hit in our house. With nearly all the family being crumpet fans they have very high standards, so this was a definite hit.
You get six crumpets in the packet. They are just as it says on the website - thick and fluffy, and much plumper than other crumpets. We had ours with just a thin spread of butter, but these are gorgeous with honey. The website suggests trying savoury toppings too like cheese and tomato, or egg and bacon. Never thought of doing that with a crumpet but might give it a try.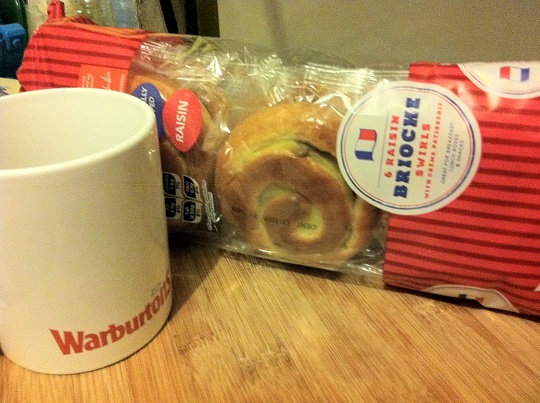 Warburtons Brioche is where I caved. I just couldn't resist a roll with my coffee and I wasn't disappointed. They are firm, and sweet, and deliciously chewy. My husband had never been enticed to try brioche before. He just couldn't see the attraction in eating 'sweet' bread. He can now!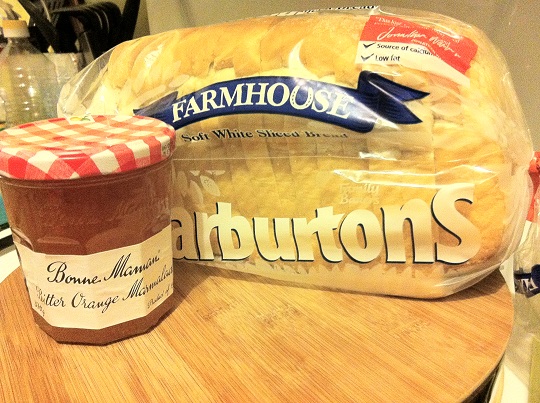 Last but perhaps the best of all was the Warburtons Farmhouse loaf (£1.45, 800g). Now on a comparison with Kingsmill Farmhouse, this seems like a bigger, plumper slice of bread. It made great sandwiches and absolutely gorgeous toast. Taste wise my husband didn't actually notice that I was giving him something different to his usual Kingsmill, so in that respect I think that my decision of which loaf to buy in the future will come down to which one is cheaper/on special offer.
Final verdict
To be honest, we buy the crumpets all the time now. I can't go back to the Basics ones, not after trying these. They might be mega cheap but it is a bit like chewing cardboard by comparison. A false economy.
Likewise, I've switched to the Warburton's half and half for packed school lunches. That was a no brainer really.