Review: Organic Fun For Dad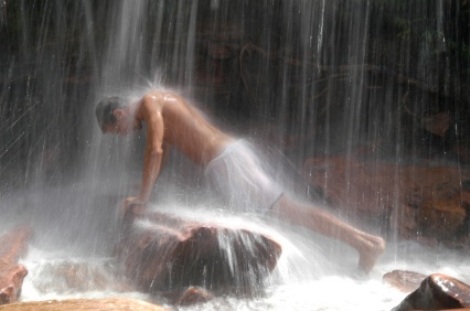 The month of June is all about Dad here at PlayPennies and so we've been reviewing all sorts of fabulous goodies for him to enjoy. Aubrey Organics have just done a range of organic products for men called Men's Stock which cover pretty much all the grooming basics.
These products are rather brilliant for Dads as they can even use them while bathing with their little ones without worrying about harmful chemicals or ingredients affecting the little one's skin. So we sent these off to two of our PlayPennies Dad's for review.

This lightweight moisturiser includes ingredients like aloe vera, witch hazel, calendula oil and lemon peel (all organic, of course) and has been shown to reduce razor bumps if used twice a day. It costs £11.99 for 59ml.
"It's incredibly runny and you must make sure you read the back of the container or be prepared to be covered in lotion!" said Mike, "The overall product does as it should, and moisturises well and only a small amount goes a really long way."
Sean agreed, "I found that the product was very liquid which was initially a little disturbing, I'm used to thicker creams, but it definitely does the job well."
Both of the men felt that the product worked well on their skin but sadly Mike wasn't too impressed with the smell.
"I really didn't like the smell, it's really offputting for me," he said, "And the consistency wasn't something I really liked either."

Sean felt slightly differently, "I thought the smell was a bit odd but soon got used to it. Also, it rapidly disappeared once the product was rubbed into my skin and I liked the way my skin felt afterwards too."
The final verdict from both Dads was that the product worked well and that only small amounts were needed to do the job, but that the smell and consistency didn't appeal to them very much.

This conditioner is designed to strengthen and mend damaged or thinning hair fibres and uses only natural ingredients such as Panaz Ginseng extract, Beta-Carotene and Aloe Barbadensis Leaf Juice. Yes, you get leaf juice in your hair.
Sean found that this did wonderful things to his hair.
"I used this as well as my usual conditioner and found that my hair really did feel thicker and cleaner," he said, "Like the moisturiser, only a small amount is needed each time so I can see this lasting me for ages."
Mike remained ambivalent about the Mens' Stock products.
"In the few weeks that I used this product, I didn't see any change to what I use normally," he said, "Aside from it being a little drying. I think you need a conditioner as well."
However, in spite of this product not winning Mike over completely, he did agree that a little goes a long way and that the product would last for ages.
Sean really liked the way the hair repair smelled too, "It's got a strangely addictive smell," he said.
The Ginseng Biotin Hair Repair costs £13.49 and the price did not get a thumbs up from our dads.
"I think the products are quite expensive," said Mike, "However, they would last a long time so the cost would balance out over a period of time."
And Finally
The Men's Stock range hasn't completely stunned and amazed our dads coming in at an average score of around five out of ten. This doesn't mean that they are a complete dud, though. Sean rated them at six, while Mike had them at about four.
The range looks to be very much about personal taste so perhaps take Dad round to your local stockist before buying them for him. Overall, they did deliver on their promise and they worked well and the fact that they are entirely organic and environmentally friendly definitely adds to their allure.