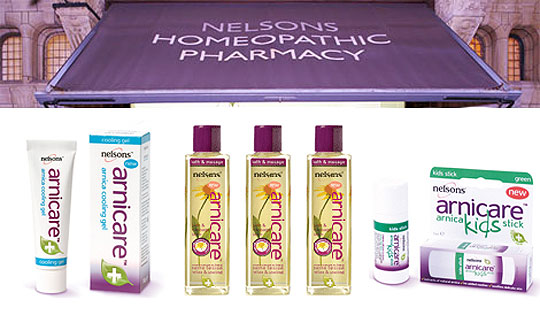 I didn't need to Google 'What is Arnica used for?' - I already know and I'm already a fan.  But I'm not a fan of products that don't do what they promise and remain positively sceptical until I've put them to the test - even when they do contain one of my favourite ingredients.  (Can you be a positive sceptic...?)
Arnica Montana, to use its full name, has been used as an soothing anti-inflammatory to treat bumps and bruises and soothe aching muscles since the 1500s; the fact it's still being used today would suggest it's somewhat effective.
Three Arnicare products appeared on my desk: an Arnicare Kids Stick, a bottle of Arnicare Bath and Massage Balm and a tube of Arnicare Cooling Gel.
Myself and my daughter are very active: she's in training for British Army selection, the fitness level required and physical tests they must pass are tough - she's feeling a bit battered and bruised at the moment.
In my offline life I do a lot of training and fitness coaching, it's rare that I'm not aching somewhere, so we both couldn't WAIT to try out the Arnicare products and see whether our aches and pains were magicked away.
Here's how we got on...
Arnicare Kids Stick
As neither of us consider ourselves kids, the Arnicare Kids Stick was the first thing we looked at (it was almost as if we were saving the 'best' for last) and we were bemused!
We're both pretty intelligent and can generally work out most things, but we were left totally clueless as to what the Arnicare Kids Stick was for! Here's what the blurb says on the back of the box:
Children will love Nelsons Arnicare Kids Stick.  Lightly tinted green and specially formulated for children's delicate skin, it's fun, pocket sized and easy to use. No mess and no fuss.  Arnica has been recognised for its invaluable natural properties since the 16th century. Today it is used by millions worldwide.  Suitable for children over three years of age.
Are you any the wiser? If I didn't already know what Arnica was for this would really frustrate me, all I'd know is that it's pocket sized, it's for kids and is fun (somehow) and that millions of other people across five centuries know all about the amazing properties of Arnica except for me; great!
I'm really not convinced about the Arnicare Kids Stick - not because it won't do what it's supposed to, but because of how it's formulated.  It is definitely no messy BUT the stick is very solid; my youngest son will NOT go anywhere near anything he considers to be even vaguely medicinal, this Arnicare Kids Stick included, so I tested it on myself after I managed to bash my shin into the open dishwasher door.
WOW did it hurt and produce a rather spectacular looking bump on my leg; ARNICA please, and pronto!  I have to tell you that rubbing the Arnicare Kids Stick onto that bump was almost as painful when I connected with the dishwasher door, it was just too solid to be able to be super gentle and if you have a crying child who's just bashed themselves, that's what you need to be.
For insect bites, which you can also use Arnica on, I think the Arnicare Kids Stick will be great.  But for bumps and bruises that are tender to the touch I'd go for something softer like the Arnicare cream (which they make and has been a regular in my first aid box since my youngest was born...even though he won't let me use it on him very often!).
The Arnicare Kids Stick retails for £5.49.
Arnicare Cooling Gel
NOW we're talking;  this Arnicare cooling gel is ACE and both myself and my daughter LOVE. IT!
It promises to...
Combine the benefits of Arnica with the refreshing sensation of grapefruit oil and menthol to cool and soothe the skin.  It is also perfect to ease aching muscles following physical exertion or to revive tired, heavy legs after being on your feet all day
If you want to experience a product, other than that well known DIY brand, that does exactly what it says on the 'tin' then grab yourself a tube of Arnicare Cooling Gel; it's the strangest sensation but ohhhh so wonderful if you have a body that's tired from training or being constantly on the go.
The gel is clear and turns quite fluid when you rub it into your skin.  It instantly cools on contact, goes a very, very long way and I was most impressed that it dried to leave my skin feeling soft without a hint of greasiness or stickiness.
The Arnicare Cooling Gel smells of grapefruit, which I thought was rather nice; Elise, on the other hand, wasn't keen but said, "It's not horrible or anything, it's just not my favourite smell. But I'd happily overlook that as the feeling on your skin is so amazing."
The Arnicare Cooling Gel retails for £4.95 for 30g.
Arnicare Bath and Massage Balm
I'm not a bath fan; I get really restless just laying there staring at the ceiling so I left the bathing element of testing to Elise - she can soak for Queen and country!
I opted for the massaging the Arnicare Bath and Massage Balm into my skin; I can't even begin to rave enough as to how A-MAZ-ING my skin now looks and feels.
Massage into aching, stiff muscles or add to your bath, soaking away tensions and strains.  Evening Primrose and rich Sweet Almond Oil naturally hydrate the skin, whilst Lavender and Grapefruit essential oils help calm the sense and relax the mind
I really can't say, in all honesty, whether massaging the Arnicare Bath and Massage Balm into my skin helped relieve my aching muscles and feel relaxed, or whether massaging with any old cream or oil would have done the trick.
But what I do know is this:  I did feel relaxed and muscularly soothed afterwards.  I also know that my skin has rarely felt so smooth or looked quite so glowing, if ever; I'm a serious fan and put the Arnicare Bath and Massage Balm on my skin every day after I get out of the shower now.
Elise was of the same opinion regarding her bathing experience.
She's not sure whether a soak in just hot water would have made her feel the same as her bath with Arnicare Bath and Massage Balm, but she's very happy about the way it leaves her skin feeling.  We keep pinching it out of each other's bathrooms - I think perhaps I need to invest in another bottle so we can have one each!
The Arnicare Bath and Massage Balm retails for £8.19 for 200ml.
And finally...

I think the Arnicare Kids Stick is a bit of a dead loss, to be honest.  I believe it will be one of those things that will end up sitting at the bottom of the 'out and about' bag and eventually just be thrown away; personally, I'd go for the Arnicare Cream as it's far easier to use with with a gentle touch.
The Arnicare Cooling Gel and Bath and Massage Balm, on the other hand, are fabulous.  I think their price is spot on and, in both cases, a little goes an incredibly long way so you won't be buying them every five minutes...unless everyone in your family falls in love with them, in which case you may have to resort to hiding tactics if you want to keep them for yourself!
Arnicare products are available from Boots.