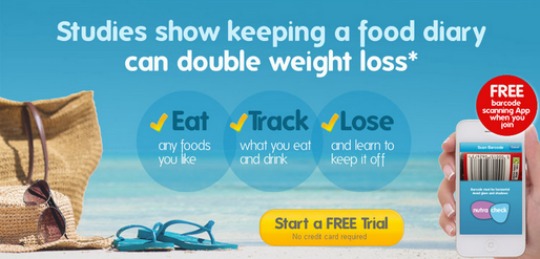 New Year, new start, bla, bla, bla! It's hard dieting, and is dieting even the right thing to do? Websites like Nutracheck are against "fad diets" and promote correct portion sizes, calorie amounts, fat intake and monitor your exercise. With the use of a food and exercise diary on the site/or mobile app you can keep track of your progress. There's also a forum of people, just like yourself who are on the weightloss journey. They are running an offer just now of a FREE five day trial and also you can bag yourself a three month membership for just £17.99 (instead of £24.99) or £27.99 (instead of £41.99).
You may be reading this thinking, hang on I can get a food diary app for free on my phone. Yeah, you can, but you won't get the support or encouragement that is provided via the forum. I can confidently say this because I have used Nutracheck in the past.
My weightloss was nothing short of amazing on Nutracheck. I lost eight stone in total, in a year! I started January 2009, morbidly obese and I had a massive amount to lose. For every half a stone loss, I was awarded an online rosette, this made encouraged me to go on and on. Breaking it up into little, personal weighloss goals. I made some amazing friends who supported me along the way and they remain friends of mine to this very day. My reason for success is because I kept within my realistic calorie allowance, and there was no deprivation at all! It's worth noting that up until the point I got pregnant in 2013, I didn't regain any weight whatsoever!
Dieting/healthy eating is hard! Trust me I know! It is really about changing your mindset, I have rejoined Nutracheck myself as I get married in 6 months and need to lose the baby weight that I am carrying. We all need a kick up the butt at times!