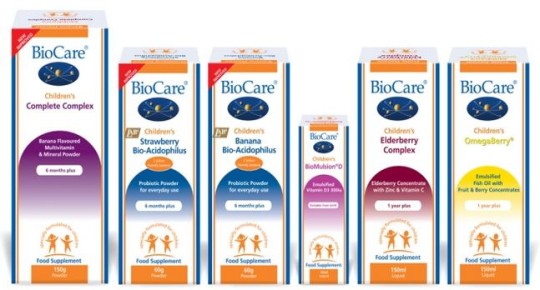 How much fun is it to try and get your child to swallow a tablet? And what if they're not a kid who likes sweet type things so aren't enticed by the chewable variety? These supplements from BioCare for children come in a powder form, and a liquid form, so much easier to slip into their food or drinks.
I'm not a huge believer in supplements. If your child has a well balanced diet then they are getting all the nutrients they need. Sometimes though I want to get a little bit extra. To boost their immune system in winter, for instance. Also one of ours is what they call a resistant eater. Not just fussy. This is a whole new level. It has been a hard fight but we've got him eating something from wide variety of foods but still it is a worry.
Did we have more success with BioCare? Read on to find out!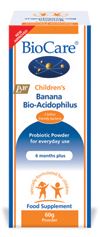 Children's Banana Bio-Acidophilus (£15.70 60g) is a little bit pricey. Other similar supplements I've bought before have been around the £10 to £12 mark. Also disconcertingly, it comes in a much larger bottle so at first you think wow it is only half full!
That said you only use a half teaspoonful, once per day. That's 2.5g, so it should last you 24 days for one child. I'd have preferred a whole month in one go but there are likely to be a few days where I don't put any in his food at all, so I guess it evens out.
This one was banana flavoured, and it also comes in strawberry. I don't know what sorts of food they think we will mix this in with. I haven't got a lot of banana items on the menu except for actual bananas. But he does like a banana drink, and the powder was easy to mix in. I'd probably get both banana and strawberry as he likes strawberry jam too. That said, I did sprinkle it in his sandwiches as well and I have to say he never noticed. He certainly didn't mention any odd flavours!
This supplement can be used from 6 months, and contains LAB4 complex of friendly bacteria. This aims to help support a healthy immune system, also digestion and fermentation  of foods containing lactose or high in fibre, and it provides a specific food source for the growth of friendly internal bacteria.
Children's Elderberry Com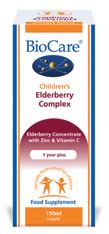 plex (£8.20 150ml) is a lot more reasonably priced. And it is a liquid so it was easier to mix in with his juice drinks. In fact, he didn't notice it at all, but then his juice was a mix of Elderberry and blackcurrant anyway so perhaps it just all blended in with the flavour.
This supplement contains zinc and vitamin c, and it is suitable from one year. It isn't possible for your body to store vitamin c so it is one of the vitamins I worry about the most.
It is hard to say how well this worked. You take one 5ml spoonful a day, which means you get 30 days worth in the bottle. The spring has been a lot milder this year, and we've definitely had a lot less colds and viruses in the house. But that could just be down to being outside a lot more! However, I was relieved to be able to get this supplement into his diet at all so a bottle is definitely going in the cupboard ready for next winter.