Did you know that Oxo have been selling kitchen tools in America since 1990? No, not the stock cube guys, Oxo the kitchen equipment guys. Don't worry, we didn't either, so when they sent us items from their new Oxo Tot range, we sent it all off to PlayPennies mum Kim for testing.
"The fork and spoon set is lovely," says Kim. "The handles are really chunky and fit perfectly into my daughter's little hands. I've never given her metal cutlery to use before this, but I must say she got on fine with this. She has used the spoon constantly and really loves holding it. I think she must know that she looks all grown up!"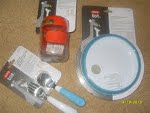 My daughter still uses a spoon as I'm worried about her stabbing herself with the fork. Kim feels the same, but Oxo obviously knew what mums are like and have made the tines on the fork with rounded edges.
As for how the cutlery actually works? "There are deep spoon shapes on both the fork and spoon which helps my daughter get food on the spoon and keep it on there on the journey to her mouth. Unlike the spoons I used to give her to use which were pretty useless at keeping the food on as they were very flat which lead to the food always falling off."
It sounds like Oxo thought of everything.
This set retails for £6.00 on Amazon and John Lewis.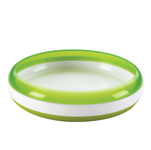 "The training plate I received is really cool," enthuses Kim. "It is a plate which has a removable ring which can be taken off when your child has got to grips with the art of self-feeding."
Kim is just as excited about how it looks as she is about what it does.
"I love the modern appearance and the fact that it is kind of like a bowl and plate in one. Because of the depth of the sides you can easily serve things like soup in this..which I have done. The removable ring is to help keep the food contained in the plate... and it does just that! The removable ring pushes on to the top of the plate - I did find it takes a bit of practice to get the ring on and off but once you've got the knack of it , you'll find it easy.
The base of the plate is weighted and non-slip which I found really useful as my daughter has a tendency to accidentally push the plate all over the place whilst trying to eat her food."
The training plate retails at John Lewis and Amazon for £6.00, which Kim says is probably more than she wouldnormally pay. "However the plate is well worth the money as it does make the act of getting your child to eat their food easier...and that is priceless."
The last item, the training cup, is, in our mum's view, unique.
"I've never seen anything like it before. The lid of the cup has holes in it which help control the liquid coming through when a child is drinking and it is also clear to help the child see that the drink is coming."
Kim's daughter is still using a sippy cup, but the times she has used it, it has been a great alternative to a plastic beaker. "I think as she gets older and I can start to trust her not to just tip the drink all over the floor, this will be a great tool to help her learn to drink from anormal cup. Plus once she no longer needs the flow controlling lid it can be removed so she is left with a big kid cup. "
The training cup has non-slip grips on the side to help your child hold the cup. It says it is aimed at ages 12 months plus and contains about 260ml liquid when filled up.
The only thing lacking, says Kim, is a lid to fit on it while in transit. "Having said that, as a cup for use at home this is perfect."
This cup retails at £6.00 on Amazon and at John Lewis.
And Finally...
Kim seems really happy with the Oxo Tots range.
"

Overall I am very impressed with all three products. They cost more than I wouldnormally pay for these kind of items, but I think that the products are all worth the money. I think they would make good presents as they are the kind of product that every mum needs for their child."
All three products come in three colours - orange, blue and green and come with a satisfaction guarantee. There are other innovative, interesting and useful products in the range too – well worth checking out!