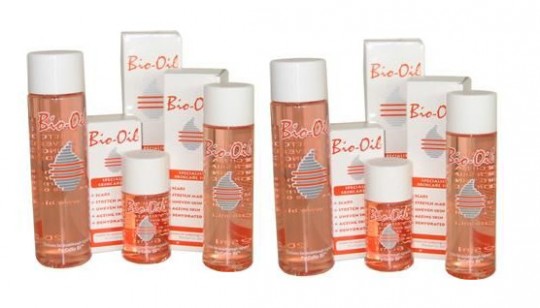 One of the downsides of pregnancy is that for many women you're left with stretch marks and unwanted scars afterwards. Bio Oil is a natural skin care product that claims to "improve the appearance of scars, stretch marks and uneven skin tone". So does the reality live up to the hype? Let's find out.
With its relatively affordable £9.99 RRP (and you should be able to find it cheaper than that if you look around), it's easy to understand why Bio Oil has become a popular post-pregnancy skin care treatment. It comes in a 60ml bottle, with the primary ingredients being calendula, lavender, rosemary and chamomile oils, along with Vitamin A, Vitamin E and mineral oil.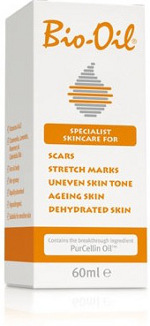 The idea is to massage into affected areas in a circular motion, twice a day, for 90 days. That's a lot longer than silicone-based scar treatment products, but Bio Oil is a gentler and more nourishing all-round skin care solution, particularly for treating dehydrated and sensitive skin.
The concentration of natural oils gives Bio Oil a naturally pleasant fragrance on their own, but surprisingly this has been overshadowed by an added perfume-like fragrance.
Whether this is a positive or negative will be up to you, but at least the scent is subtle rather than overpowering, which is a good thing.
Being oil-based means Bio Oil does leave your skin feeling slightly greasy afterwards, which might take some getting used to if you're more used to the likes of cocoa butter. But once you've used it a few times you quickly get a feel for applying the right amount of oil for it to work effectively without your skin feeling too oily afterwards.
For me, the biggest positive about Bio Oil has to be its versatility.
Even just used as an everyday nourishing oil, your skin is left soft and supple. The fragrance is pleasant and it does a good job of visually improving minor scars, irritations and uneven skin tones.
It's worth pointing out that mineral oil (paraffinum liquidum) is claimed by some to be a skin irritant that can clog the pores and worsen conditions like acne or eczema, so its presence in Bio Oil could be a deal-breaker for you depending on where you stand on the issue.
Also, the 90-day treatment duration means you need a fair bit of discipline if you're to maximise Bio Oil's effectiveness as per the recommended instructions.
To be fair, though, there simply isn't a perfect post-pregnancy skin treatment that is 100% effective in every case for every woman. Its affordability and general versatility makes Bio Oil well worth a try, however.
I couldn't recommended it for treating serious scars or skin conditions on its own, but for general post-pregnancy use to reduce stretch marks, or as a nourishing all-round oil, it's easy to see why Bio Oil is so popular.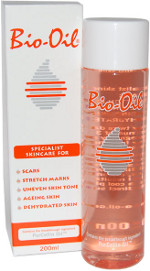 The Good
Bio Oil is easy to find and get hold of
You're bound to know someone who has used it
It has largely natural and not terrible for you ingredients, with the exception of that mentioned.
It has quite a nice smell - I've always thought it slight cinnamon-ish.
It's not a very expensive treatment
Bio Oil is well known and has stood the 'test of time' for many mums
The Bad
I can't think of anything here, really. I mean, stretchmarks aren't great, and there's nothing that's going to work 100% for everyone. This might work for you, it might not.
The Verdict
I tried Bio Oil whenever I thought of it during pregnancy and less rarely after my pregnancy, because with a toddler and a newborn, stretchmarks weren't really on my mind much! I'm not covered in stretchmarks though, and my belly doesn't see the light of day too often, so it's not a priority for me. For someone for whom it is, though, it's definitely worth a try.